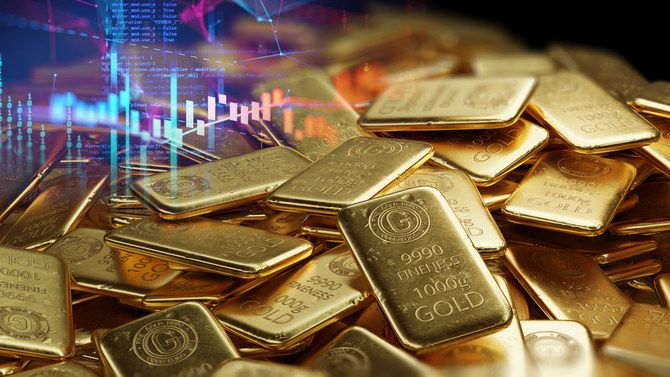 Gold drops as inflation risks after OPEC+ oil target cut raise Fed hike odds
Gold prices slid on Monday after a surprise announcement from the Organization of the Petroleum Exporting Countries and its allies, known as OPEC+, about a cut to oil output sparked inflation concerns and raised bets of an interest rate hike at the US Federal Reserve's upcoming May meeting, according to Reuters.
Spot gold was down 0.6 percent at $1,956.89 per ounce, as of 0709 GMT, its lowest in nearly a week. US gold futures shed 0.7 percent to $1,971.30.

The opportunity cost of holding non-yielding bullion rises when interest rates are increased to lower inflation.

Gold has fallen "as investors weigh up the lure of gold as a safe-haven asset, versus the potential for higher-for-longer interest rates. Clearly, fears of inflation and higher interest rates has won the argument," said Matt Simpson, senior market analyst at City Index.

Oil prices surged after Saudi Arabia and other OPEC+ oil producers announced a round of output cuts, a potentially ominous sign for global inflation just days after a slowdown in US price data had boosted market optimism.

US consumer spending rose moderately in February and showed signs of cooling, even though it remained elevated.

"Gold is now vulnerable to a move down to $1,900, given the potential for a higher terminal Fed rate that markets are currently pricing in," Simpson added.

Markets now see a 60.9 percent chance of the Fed hiking rates by a quarter point in May which, in turn, has lifted the US dollar and Treasury yields.

ANZ, in a note, observed gold's "safe-haven demand easing as the US banking turmoil eased."

Bullion had risen by nearly 8 percent last quarter after the recent global banking turmoil drove bets that the Fed would tone down its rate hike approach.

Standard Chartered analyst Suki Cooper said in a note that gold buying by central banks might "not be as strong as it was in 2022."

Spot silver slipped 1.6 percent to $23.69 per ounce, platinum lost 0.5 percent to $986.83, and palladium fell 0.4 percent to $1,455.16.
---