His Excellency the Governor, John J. Rankin, CMG rang in the holiday season by hosting parties for children and young adults on December 2 and 3, 2021.
According to a press release from Government Information Service (GIS) on December 7, 2021, the two-day celebrations of merriment started at Eslyn Henley Richiez Learning Centre where the Governor delivered Christmas gifts and read a festive story to the students.

The Governor then hosted students and adults from a number of different schools and organisations including Autism Centre clients, ABC Academy, Agape Total Life Academy, Alexandrina Maduro Primary School, Althea Scatliffe Primary School, Cedar, Valley Day (VG), Elmore Stoutt High School, Enis Adams Primary School (including Therapeutic Kindergarten), Ebenezer Thomas Primary School, First Impressions, Home Away from Home, Ivan Dawson Primary School, Joyce Samuel Primary School, St. Georges Secondary School, Wendell Potter Learning Centre, BVI Services - Social Development and Rainbow Children's Home.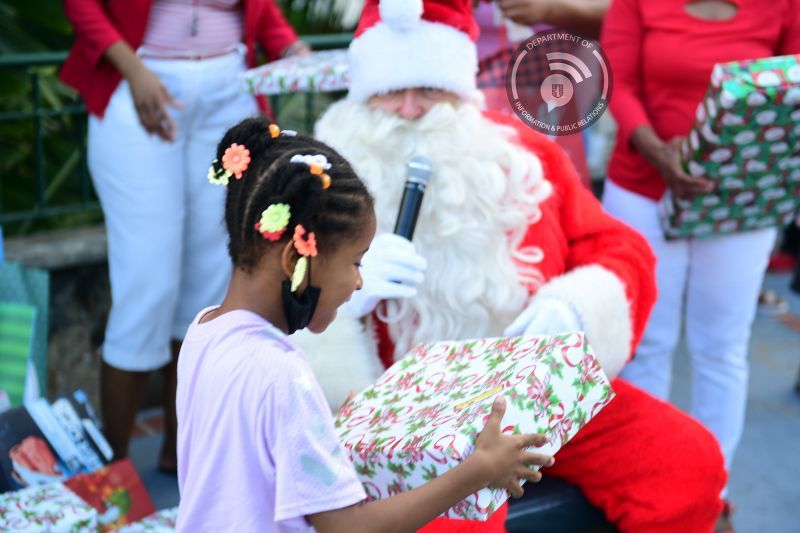 A child receives a present from Santa Clause at a Christmas party held for children.

The Governor told the groups, "Christmas is a time for joy and celebration, inspired by the birth of Jesus Christ, and it is certainly beginning to look a lot like Christmas in BVI. I hope you are enjoying the Christmas decorations, treats and festive songs and have a blessed New Year."

Activites included face painting, dancing, storytelling, and a Santa Claus visit with gift-giving. The Christmas Party is an annual event hosted by the Governor for children and young adults of the community.