The next step will come on January 6, when Congress will be tasked with certifying the Electoral College results.
The US Electoral College has elected former vice-president Joe Biden to be the next president of the United States.

The vote, which took place in all 50 states and the capital city of Washington on Monday, formalised Biden's victory over Donald Trump, even as Trump and his most loyal allies in Congress continued to deny that reality and refused to acknowledge Biden's win.

Needing 270 Electoral College votes to win, Biden secured all 306 of the votes he was expected to receive, with no instances of "faithless electors" voting against their state's winner. The president-elect's 306-232 win over Trump was by the same majority with which Trump won the 2016 election – an outcome he then described as a "landslide".

The next step will come on January 6, when Congress will be tasked with certifying the Electoral College results.

Vice-President Mike Pence, whose other title is president of the Senate, will oversee that session of Congress, and may find himself having to be the one who makes the final declaration that he and Trump have lost the election.

Speaking in Delaware on Monday night to acknowledge the formalisation of his victory, Biden slammed the Trump campaign's continued and unsuccessful efforts to overturn the result of the election, and applauded state and local officials for refusing to "give credence to what they knew was not true".

"Our democracy – pushed, tested, threatened – proved to be resilient, true and strong," Biden said.

With all 50 states and Washington having counted and certified their votes, Biden's popular vote lead over Trump stood at 81,283,495 votes to 74,223,755 votes, according to Associated Press.

Biden secured a slew of states in the Midwest that Trump had won four years ago, and was also the first Democrat to win the states of Arizona and Georgia since the 1990s.

But winning the popular vote does not mean winning the presidency. Trump lost the national popular vote four years ago by almost 3 million votes.

The United States does not choose its president via direct elections. Instead, citizens in each state cast ballots for designated electors who pledge to support a specific presidential candidate.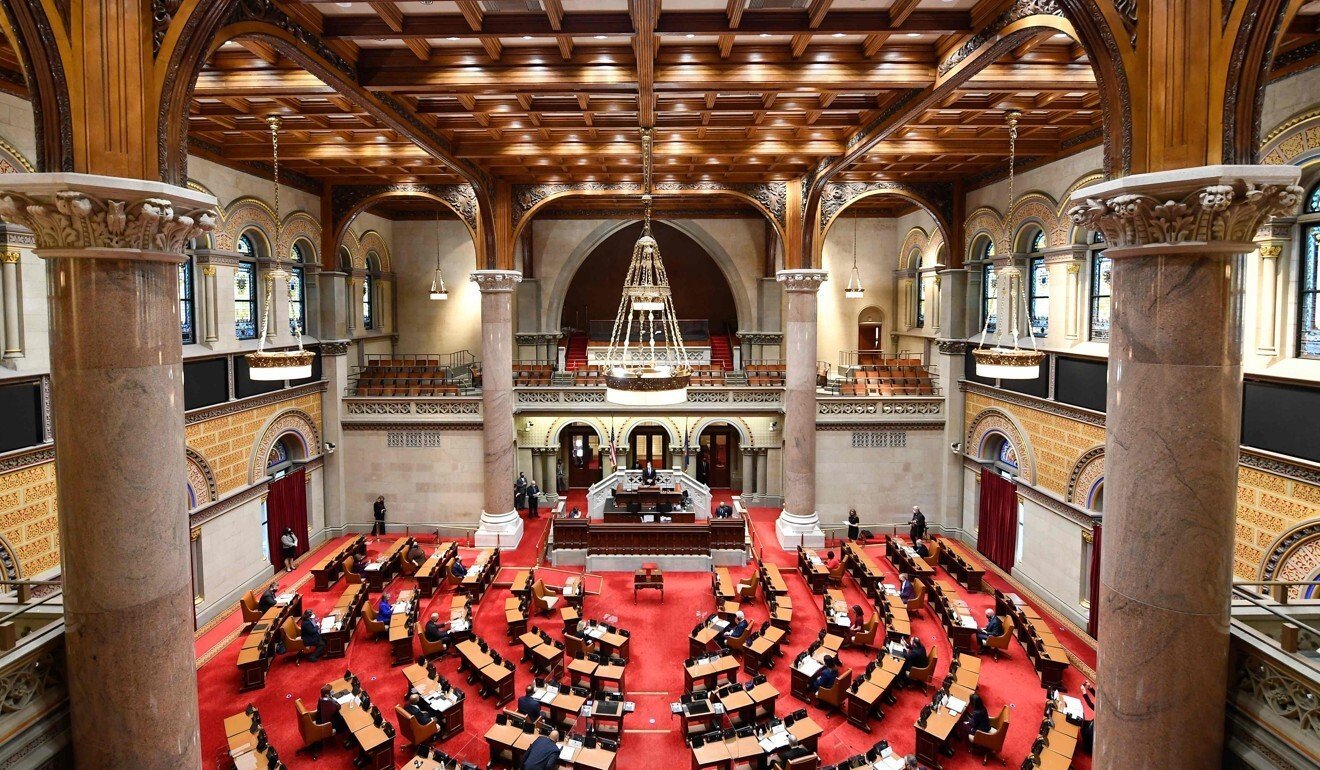 New York Governor Andrew Cuomo speaks to members of New York state's Electoral College before voting for president and vice-president in Albany, New York on Monday.

When the electors meet to vote every four years on the Monday after the second Wednesday in December, they are expected to vote in line with the will of the people in each state, though occasionally there are a few "faithless electors" who vote their own way.

While states counted and recounted their votes in the weeks leading up to the Electoral College vote, Trump and his loyal supporters spent that time insisting, without evidence to support their claims, that the only way Trump could have lost the election is because of a widespread conspiracy of fraud against him.

Trump's legal team and its allies initiated dozens of lawsuits in states where Biden won, seeking to nullify the results of the election in those states, and they have been resoundingly rejected by judges, including judges appointed by Trump.

Trump also clashed in recent weeks with US Attorney General William Barr – considered one of Trump's most loyal cabinet members – after Barr defied Trump and confirmed that there was no widespread election fraud. Just minutes after Biden passed 270 votes on Monday, and perhaps timed to distract from it, Trump announced on Twitter that Barr would be leaving his administration.

In one high-profile case, Texas Attorney General Ken Paxton tried to convince the US Supreme Court to overturn Biden's victories in four other states. Critics suggested that Paxton, who is under investigation by the FBI for corruption, may be trying to entice Trump to grant him a pardon.

Nevertheless, 17 other state attorneys general and 126 members of Congress publicly supported him.

The Supreme Court on Friday said it was refusing to hear the case. Trump tweeted afterwards that the court lacked "courage".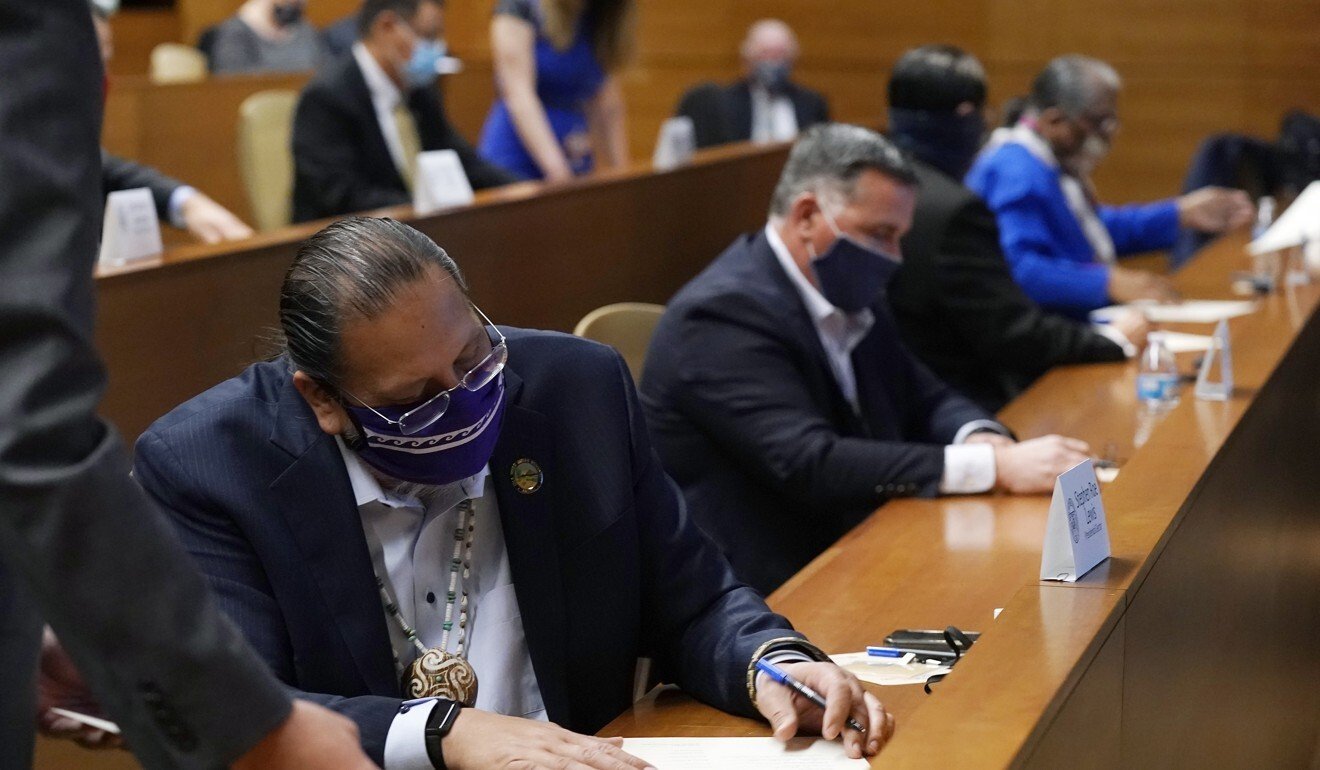 Stephen Roe Lewis, a member of Arizona's Electoral College, signs his name to the Arizona presidential electoral ballot on Monday in Phoenix.

While the electors were casting their votes on Monday, one of Trump's closest advisers, Stephen Miller, suggested that "alternate" electors would vote instead for a Trump victory – although no such position exists, and any "votes" they claim to be casting would be irrelevant to the final tally.

Some Republican members of Congress suggested that they will not vote to certify the election results when they come before Congress on January 6.

That process, said Martha Kropf, a professor of political science and public policy at the University of North Carolina at Charlotte, is typically a formality that most Americans would not normally be watching.

It "should simply re-emphasise what each of the 50 states and Washington already have decided," she said. To suggest that the election is still contested, she said, is "nonsense".

Kropf, an expert in US elections, added that it was "unprecedented" that the administration was taking its challenges so far.

Along with the legal challenges have also come massive public pressure and threats against state officials and election workers.

The state of Michigan closed its state capitol building on Monday because of threats, and Arizona's electors cast their ballots from an "undisclosed location" to keep safe, according to CNN.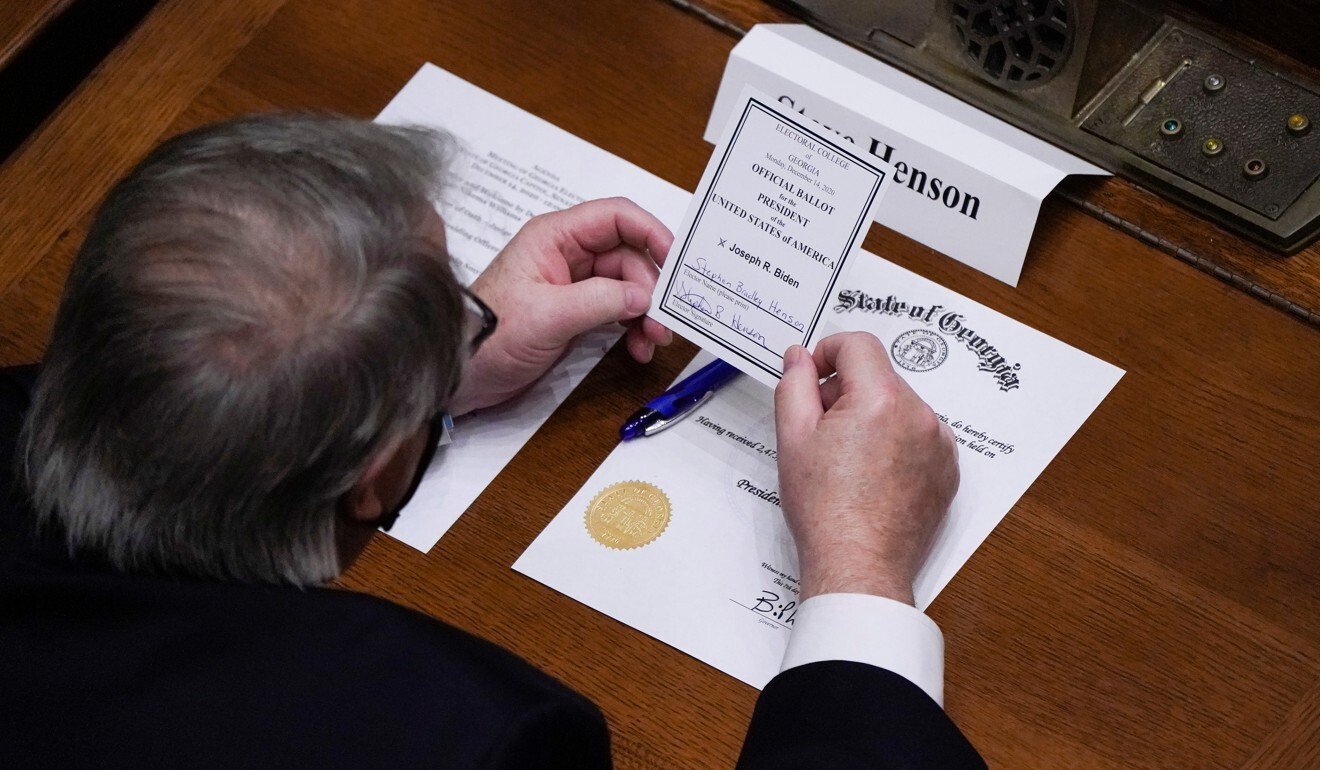 Democratic Electoral College elector Steve Henson looks at his signed vote for Joe Biden for president of the United States in Atlanta, Georgia on Monday.

"The thing about all of this is that we've simply not got to this point in the past," Kropf said, though she added that it was unlikely that either chamber of Congress would actually stop the certification.

Once the certification is done, it still remains unclear whether Trump will leave the White House willingly when his term ends on January 20 at 12.01pm. Neither the White House nor the Trump campaign immediately responded to requests for comment on Monday evening.

In late November, Trump was asked whether he would concede defeat if the Electoral College declared him the loser of the election.

"Certainly, I will. And you know that," he said at the time.