A man smashed the windscreen of a luxury supercar as he brazenly walked over the bonnet and jumped up and down on the roof.
The man was spotted by the owner of the McLaren as he had his haircut over the road at a barber nearby in Uxbridge, west London.

Video footage shows the man casually walking over the front of the car before bouncing on the windscreen causing thousands of pounds worth of damage.

Passers-by including a woman pushing a pram just walked past as he climbs over the car.

Other members of the public are said to have screamed at him telling him to get down, but he didn't seem to care, a witness said.

Footage also later showed that a man had been handcuffed by police officers, but Scotland Yard has said it is investigating the incident and no arrests have been made.

The Mclaren 720s, which costs around £225,000 was parked in Barker Road close to Uxbridge bus-station and belongs to celebrity supercar dealer George Gehdu.

Mr Gehdu regularly shares some of his famous clients online, including Manchester United goalkeeper David De Gea, and Crystal Palace striker Wilfried Zaha.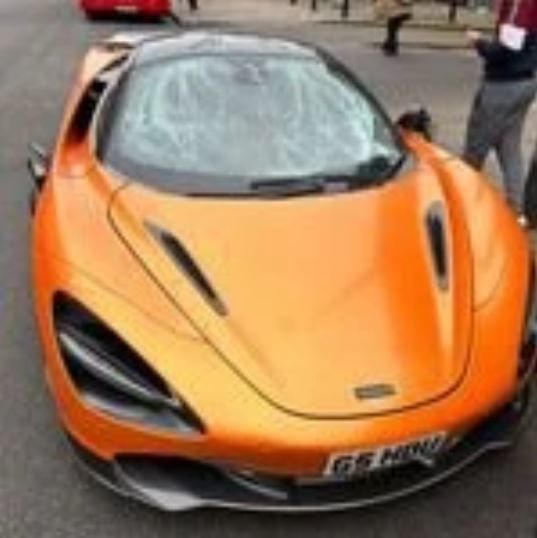 The supercar was left with a smashed windscreen after the man jumped up and down on it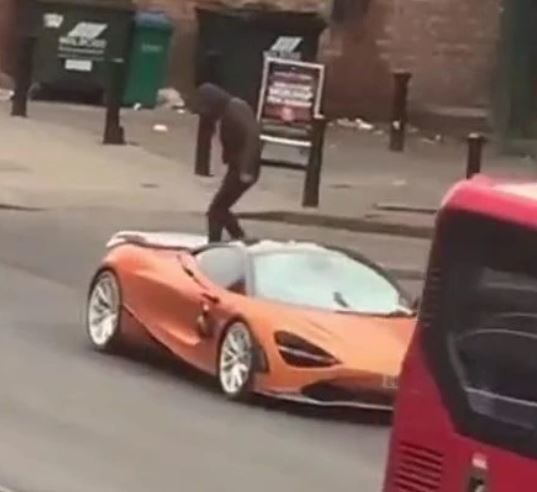 He casually hopped off the car after causing the damage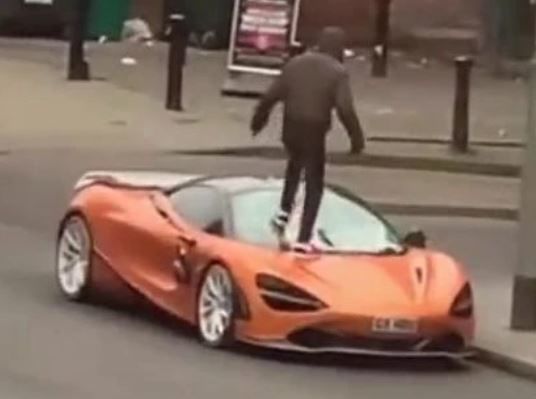 The hooded man was seen as he casually hopped onto the £200,000 car

He has also in the past sold cars to Love Island stars including Wes Nelson.

George posted on Instagram after the incident and said: 'Firstly I appreciate the support massively, not just people across the country but across the world, to see if everything is alright

I'm all good, I wasn't involved in anything, it was just some scrawny little rat, nevertheless the police came in good time a car is a car.

He definitely took his time and tried to damage it as much as possible, nevertheless I'm still out here and I'm still moving and that's the main thing.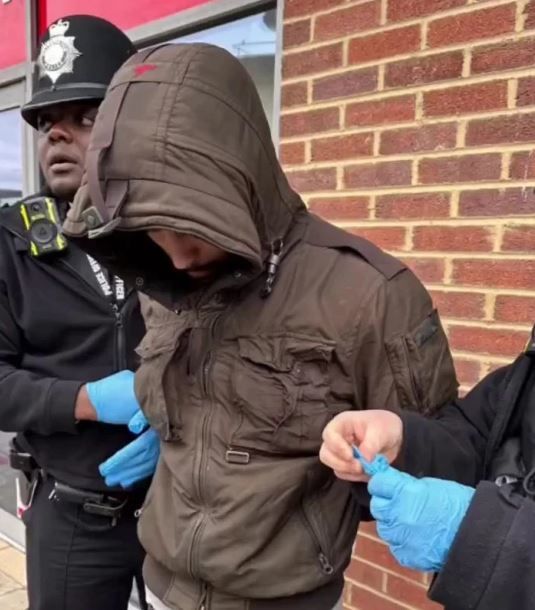 The man was later restrained by police officers after the owner of the car saw him in the street

'I felt it was important to post tonight, what exactly happened because I want everyone out there to be careful.

'I was parked right opposite the barber shop, which I can normally see, but there was a

'The guy didn't care that there were people watching or screaming at him.

'I still believe there are good people out there, its not going to stop me taking my car to a place like that.

'Super, super appreciate everyone for their support today.'

A Met Police spokesperson said: 'Police are investigating a report of criminal damage to a car that is alleged to have occurred in Baker Road, Uxbridge, on the morning of Sunday, 12 February.

'Enquiries are ongoing and no arrests have been made.'