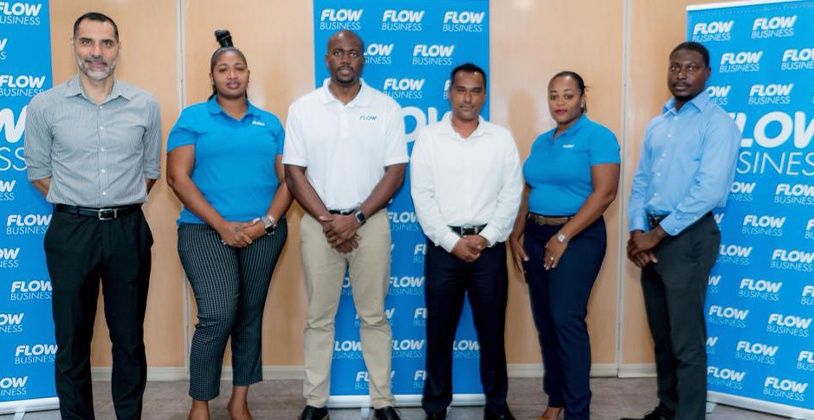 Small Business Is Big Business
Flow has introduced a new business brand to meet the expanding needs of small and medium businesses (SMBs) in the British Virgin Islands.
Speaking at the launch event of Flow Business on Wednesday, October 20, Flow Country Manager, Ravindra Maywahlall stated, "We're excited to introduce a new attractive suite of products and a seamless 'one-stop-shop experience', to provide small businesses with the necessary fuel needed to support the growth of their services. We are also introducing a new brand to market – Flow Business – which will be more responsive and cater to the needs of our small business customers."

Maywahlall explained, "Given the diversity of small businesses, we recognize that not one size fits all and created this business to be more focused on the customized needs of SMBs."

According to Flow, in his introduction of the Flow Business brand, Corporate Sales Manager, Marlon Solomon said, "We understand how important our SMBs are. They represent over 80% of the businesses in our economy and play a vital role in helping the British Virgin Islands move forward in this new era of digital services. SMBs are found in every sector – retail, hospitality, manufacturing, automotive services and much more."

He added, "With competitive packages and specific business class services, Flow Business is the trusted partner to offer everything for the evolving professional needs of our small and medium businesses, as well as budding entrepreneurs. Beyond lightning fast broadband and data rich mobile services, Flow Business is finding new ways to be responsive and help our SMBs truly
grow and thrive".

Introductory speeds start at 150Mbps and small businesses can bundle their internet and mobile services, through affordable and value driven prices. For more information, interested businesses can visit https://flowbusiness.co/

The brand launch is part of 'Small Business Month' celebrated in the month of October across C&W Communications markets in the Caribbean. The company's business brands, Flow Business, BTC Business and C&W Business rolled out a series of virtual In-Know-vation livestreams which included workshops aimed at empowering its small and medium business customers and helping them to grow their businesses in the digital age.

Small and Medium Businesses (SMBs) represent a large segment of businesses across the Caribbean and the implementation of Small Business Month is designed to signal to the SMB Community that the company is putting significant resources behind its commitment to the sector.

As part of Flow Business' new suite of Smart Solutions, SMBs can launch a new website in less than seven days, with the company covering the design and build, as well as providing 24/7 support after launching the SMB's website.

For more information on C&W's Small Business month or to sign up for any of the weekly events, please visit www.flowbusiness.co/events.