Deputy Premier and Minister for Communication and Works, Honourable Kye M. Rymer (R7) has said the newly constructed Post Office at Cane Garden Bay is a state-of-the-art facility that was fully funded by the Government of the Virgin Islands.
According to a press release from Government Information Services (GIS), Honourable Rymer, while speaking at a ribbon-cutting ceremony to officially open the post office on September 2, 2022, said, "This facility is so special to me because I received my first mail at this post office because I went to school right over there. I know the residents have been asking about this for quite some time, and today we are happy to cut the ribbon and turn over the keys to the Post Master General."

Minister for Natural Resources and Labour, and Second District Representative Honourable Melvin M. Turnbull said he was pleased with the completion of the building and also spoke of the difficulties faced in getting facilities repaired since the passage of Irma and Maria in 2017.

Honourable Turnbull said, "I have continued to fight and make representation for and on behalf of the people in my constituency and I want to thank them for their patience and tugging and even making representations in their own right."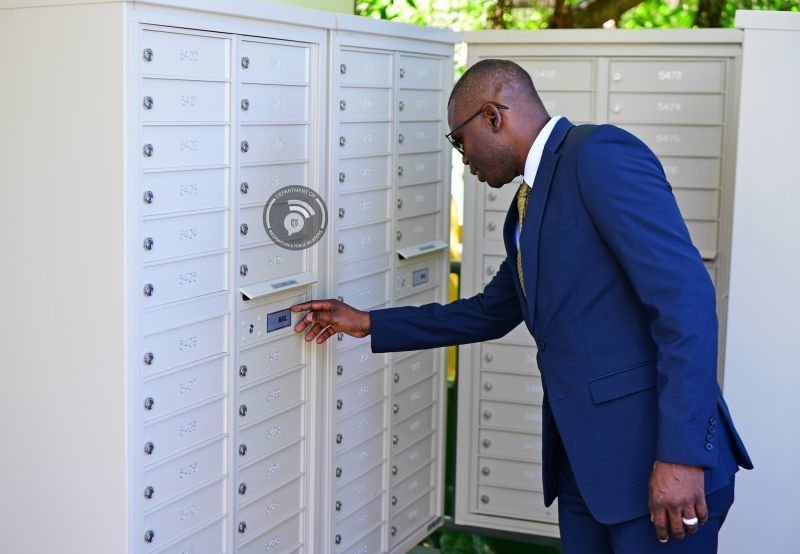 Deputy Premier and Minister for Communications and Works Hon Kye M. Rymer (R5) inspects the mailboxes at the Cane Garden Bay Post Office.
'We invite you to come & rent your mailboxes'- Hon Turnbull

Minister Turnbull thanked everyone involved in the entire process and assured residents that work is underway to get other facilities in the district reopened.

Honourable Turnbull said, "Representation is not void of action so I am happy to report that we are here opening this facility for the residents of Cane Garden Bay community, and when you hear Cane Garden Bay it means from the top of Windy Hill to the Top of Soldier Hill, that's how big this community is. Everyone that is here, we invite you to come and rent your mailboxes, understand what is going on here, and let us continue to build and revive this community."


'Internet cafe' coming- Post Master General

Acting Post Master General Ms Iris Romney emphasised the timeliness of the reopening and shared the plans that are in the pipeline for the post office.

She said, "It has been long in coming but there's a time and a season for everything, and now is Cane Garden Bay's season for their mailboxes and reopening of the post office."

Ms Romney added that residents now have access to additional mailboxes and issued an invitation for persons to sign up for these boxes. She said plans are also in place to have an internet café.