The Government of the Virgin Islands (VI) this weekend welcomed two "highly trained" health professionals from the US Virgin Islands (USVI) to assist in the COVID-19 fight.
The Virgin Islands has seen a dramatic spike in active COVID-19 cases for the past month and there have been 25 COVID-19 related deaths.

The Governor of the USVI Mr Albert A. Bryan, during a live virtual press conference on July 15, 2021, had promised to support the USVI in whatever way possible.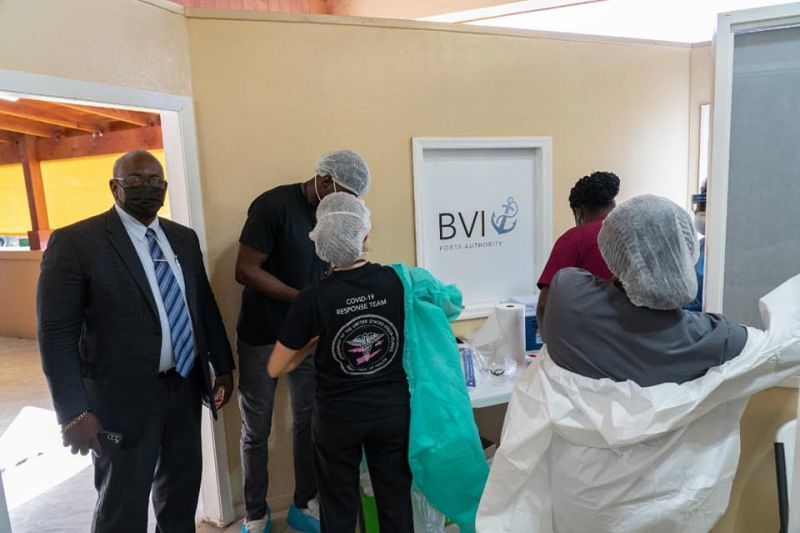 The health professionals from the US Virgin Islands assisted with conducting antigen tests on fully vaccinated travelers at Terrance B. Lettsome International Airport and Road Town Ferry Terminal on July 23 and 24, 2021.
'Thanks USVI, we're in this together'- Hon Malone

And, according to Minister for Health and Social Development, Hon Carvin Malone (AL) in a Facebook post with the caption 'Thanks USVI, We're in this together' on Saturday, July 24, 2021, the VI benefitted from two health professionals from the USVI.

"With the support of the Government of the USVI, the first two highly trained health professionals were deployed to assist with the administration of 15 minutes Antigen tests to fully vaccinated passengers at the Road Town Sea Port and at the T. B. Lettsome International Airport from Friday and Saturday respectively," Hon Malone stated as he urged the territory to exercise both "patience and vigilance" during this challenging time.

Meanwhile, Premier and Minister of Finance, Honourable Andrew A. Fahie (R1), in a statement on Friday, July 23, 2021, had expressed appreciation for the support being given by the USVI Government.

"The BVI continues to welcome the partnership from our neighbours in the US Virgin Islands and Governor Albert Bryan Jr, with whom we share a close and special bond. We appreciate this support," Hon Fahie had said.