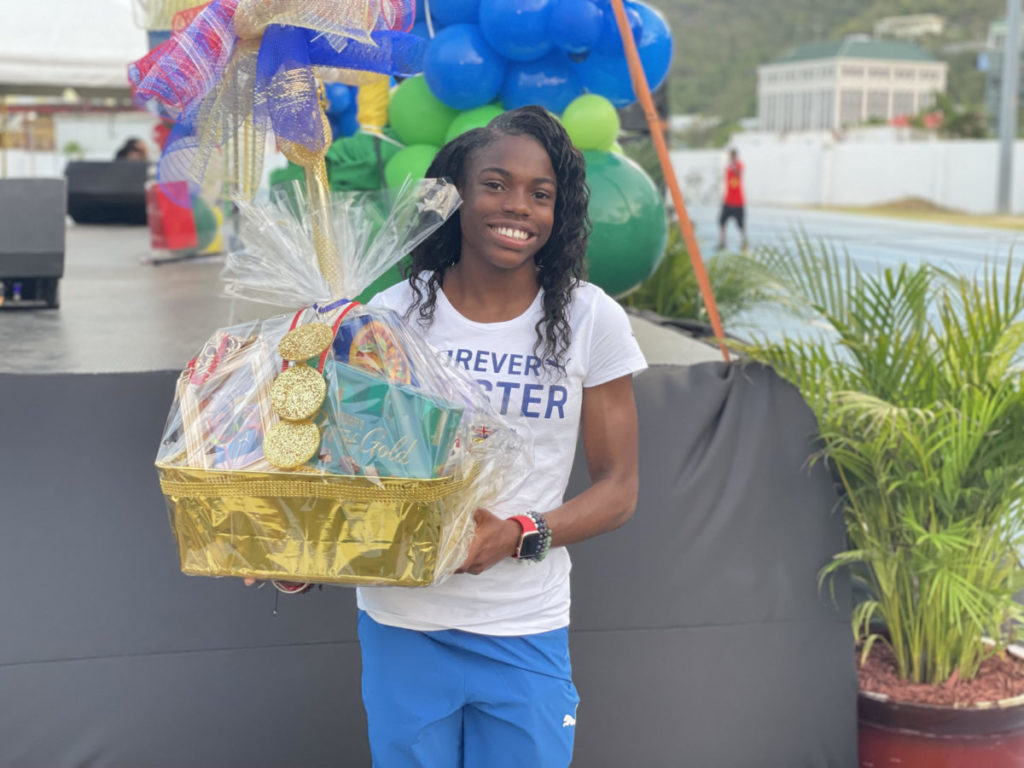 Adaejah Hodge looks to end season on a high at World Championships
Triple CARIFTA 2022 gold medallist Adaejah Hodge is looking to finish her long track and field season on a high by competing at both the senior and junior World Athletics Championship later this year and meeting the goals she has set for herself.
Speaking with BVI News at the recognition ceremony for the 2022 CARIFTA Games local team yesterday, the 16-year-old said although her season this year has been very long due to an early start, she still has several top track and field meets on her mind which she hopes to attend and excel in as she did at CARIFTA.

"Next, I have Brooks Invite — that is where all the top high schoolers come together and race — and then Nike, which is another top meet," the budding sprint superstar said.

"Maybe World Champs, I am still thinking about it. I am very tired because I started my season early this year. So, it is what it is but for me and my coach we are going back to the drawing board and discuss," she added.

The confident young sprinter thanked all her supporters here in the territory who has been cheering her on since she began her track career and also those who have been excited for her scintillating performance at the CARIFTA Games which earned her the Austin Sealy Award for the most outstanding performance at the meet.

However, she remains grounded and said the end goal is to make herself proud.

"Honestly, I am not here to make anybody proud. I am just here to make myself proud and the exposure will be really nice in Cali (World Junior Chamapionships), and I am looking forward to hitting the goals I want to hit. [To all my supporters] thank you, thank you so much," Hodge said.

The Austin Sealy Award winner recounted her experience in Jamaica and noted it was amazing. Entering the competition, the athletic sensation said she was confident in herself and her ability so when she copped three gold medals it was not a big surprise for her.

"Going into the competition I was confident. So, when I did what I did, I was really proud of myself, and I already know what I was going to do when I came into the competition due to my confidence," Hodge said.

The young sprinter received plaudits from several notable athletes such as the fastest man alive Usain Bolt and multiple World and Olympic gold medallist Shelly-Ann Fraser-Pryce for her exploits in Jamaica and Hodge said it was inspiring for her to get those compliments.

Doing three competitions was no easy feat but the Austin Sealy Award winner said she was used to it by now. During the competition, Hodge contested the 100 metre dash, the long jump and the 200 metres race.

"Other meets I have to go from race to race. So, I was just out there doing what I normally do so it was nothing brand new to me," she said.

Just last weekend, Hodge helped to guide her school Alexander Cougars to their 4th Georgia High Schools Association, Class 6A Championship. During the competition, she did a quadruple in the 100-metres, the 200-metres, the 400-metres and the Long Jump.

When asked about her performance coming on the heels of her 100-metres, 200-metres and Long Jump treble in Jamaica, Hodge noted she knew it would be difficult, but she was confident she could accomplish it.

"It was great, I know it would have been a difficult challenge but I took the challenge and destroy the challenge," the young sprinter said.