Finland's Prime Minister Sanna Marin appeared to have lost her bid for a second term on Sunday, with her party headed for defeat by two conservative parties in an extremely tight three-way race for control of parliament.
Finland's Prime Minister Sanna Marin appeared to have lost her bid for a second term on Sunday, with her party headed for defeat by two conservative parties in an extremely tight three-way race for control of parliament.

The centre-right National Coalition Party claimed victory with around 97.7 per cent of the votes counted, coming out on top at 20.7 per cent.

"Based on this result, talks over forming a new government to Finland will be initiated under the leadership of the National Coalition Party," said the party's leader Petteri Orpo, as he claimed victory on Sunday evening surrounded by supporters.

His party was followed closely by right-wing populist party The Finns with 20.1 per cent, while the Social Democrats, led by Ms Marin, garnered 19.9 per cent.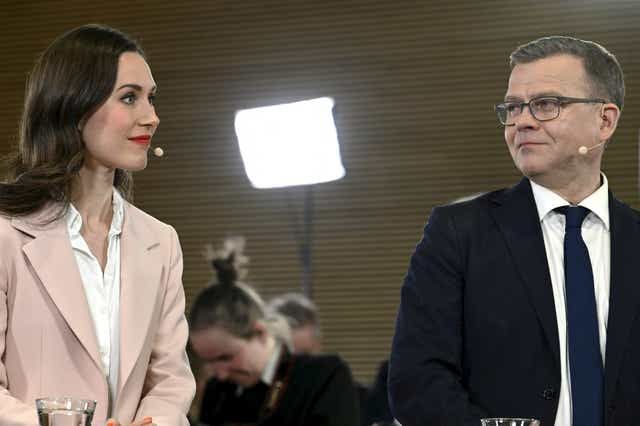 With the top three parties each getting around 20 per cent of the vote, no party is in position to form a government alone. Over 2,400 candidates from 22 parties were vying for the 200 seats in the Nordic country's parliament.

Ms Marin remains popular at home but her party's views on the Finnish economy, which emerged as the main campaign theme, were being challenged by conservatives.

Mr Orpo had hammered on economic issues at a campaign event Saturday.

"The most important thing in the next government is to fix our economy, push economic growth, balance public economy. And the second very important issue is to build up NATO-Finland," he told news agency The Associated Press in Espoo, just outside the capital.

The Finns leader Riikka Purra emphasized the populist party would focus on shaping policies regarding migration, climate, criminal and energy if it becomes a partner in the next government.

"We also want to tighten up our attitude towards the European Union," Ms Purra said during a campaign event in the municipality of Kirkkonummi, her home district around 28 miles west of Helsinki.

After voting at Helsinki City Hall on Sunday, university professor Mariana Seppänen said she thinks Marin's positive reputation abroad exceeds the prime minister's domestic popularity.

"I think usually the party that has been in charge and has the prime minister ... loses the election, and the criticism has been very harsh," Prof Seppänen said. "But I think she (Ms Marin) has a lot of support anyway."

While Russia's invasion of Ukraine prompted Finland to seek NATO membership in May 2022, neither the historic decision to abandon the nation's non-alignment policy nor the war have emerged as major campaign issues. Finland shares a long land border with Russia.

Apart from Finland's economy, other issues the parties debated during the election campaign were the government's increasing debt, climate change, education, immigration and social benefits.

"I know Sanna Marin is very popular, and she has done great, and most Finns also think that she has done an amazing job with the coronavirus," another voter, Evelina Mäkelä, said in Helsinki.

"But maybe we have to look at the new crisis that we have; some of us still believe that she does a very good job. Other people want something new, apparently," she said.

Finland, which is expected to join NATO in the coming weeks, is a European Union member with a population of 5.5 million.
AI Disclaimer
: An advanced artificial intelligence (AI) system generated the content of this page on its own. This innovative technology conducts extensive research from a variety of reliable sources, performs rigorous fact-checking and verification, cleans up and balances biased or manipulated content, and presents a minimal factual summary that is just enough yet essential for you to function as an informed and educated citizen. Please keep in mind, however, that this system is an evolving technology, and as a result, the article may contain accidental inaccuracies or errors. We urge you to help us improve our site by reporting any inaccuracies you find using the "
Contact Us
" link at the bottom of this page. Your helpful feedback helps us improve our system and deliver more precise content. When you find an article of interest here, please look for the full and extensive coverage of this topic in traditional news sources, as they are written by professional journalists that we try to support, not replace. We appreciate your understanding and assistance.