The seventh edition of the Tortola Torture took place on Saturday, April 9, on Tortola with 38 runners competing and in an event first, husband and wife duo - Roddy and Kerry-Ann Dos Santos took top honours winning the individual men's and women's category respectively.
Roddy, current record holder for the 2-person team with Guy Williamson, completed the 34-mile course in 5:48:56. Kerry-Ann took 29 minutes off her 2019 time and finished in 6:55:25.

Michael Martin visiting from the UK was second in the mens division. Nipping at Roddy's heels throughout the race, he was only three minutes behind Roddy at Sage Mountain, the halfway mark of the race.

"At that point, I just put my head down and I know the second half of the course because that's the part I do as a team of two. So I put my head down hoping to not see him again and I didn't," said Roddy.

By the George's North Side water stop – 23 miles into the race – Roddy had increased the gap to just under seven minutes. A wrong turn in the late stages of the race killed Michael's chances of toppling Roddy.

Michael crossed the finish in 6:14:29. Guy-Paul DuBois – a former BVI resident – returned for another stab at the race, and was third in 6:32:15, taking almost 30 minutes off his 2017 time.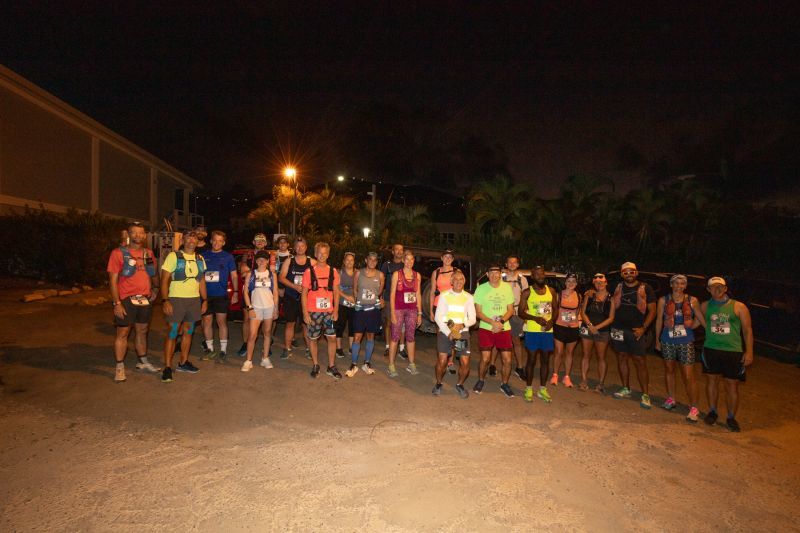 The Tortola Torture is open to individuals, 2-person, and 3-person relay teams. It's a 33.74 mile (54km) ultramarathon that circumnavigates Tortola with only 22% on the flat and the rest on hot and humid hills with 12,000 feet of elevation change. The steepest gradient is 33.33%. It has 6,587 feet of climbing over 12.8 miles, and 13.1 miles of descent. There is only 7.5 miles of flat running for the entire course.
Experience pushed Kerry-Ann to finish line

Sarah Latham, in her first Torture foray, was the second woman with a time of 7:18:51. She battled closely with Kerry-Ann, leading her by nine minutes after the flat 10-mile sprint to West End. By Sage Mountain, Kerry-Ann's hill climbing and Torture experience started to show through, and Kerry-Ann had pulled ahead by two minutes.

Sarah managed to keep up with Kerry-Ann to George's North Side, but over the last section, Kerry-Ann managed to pull away winning by 22 minutes at the finish.

"It was hot and challenging, pretty much ran it every year before except for last year, and this was the first time I was actually being a competitor because I usually run for fun, more that to compete. It was a change for me. Most enjoyable and I'm very happy with the result. I was surprised to win. I actually thought Sarah was a strong runner. When I caught sight of her, that was it. I decided to give it my all and go," Dos Santos said.

Torture veteran Natasha "Tash" Ruscheinski, was third finishing in 7:42:28.5. However, Tash, together with Sam Thompson, Ray Wearmouth, Greg O'Keefe-Davis, and Justin Smit, had completed the course on reverse the day before. Having completed the 68-mile Tortola Torture XX, they raised over $20,000 for the spaying and neutering non-profit, PAW BVI.