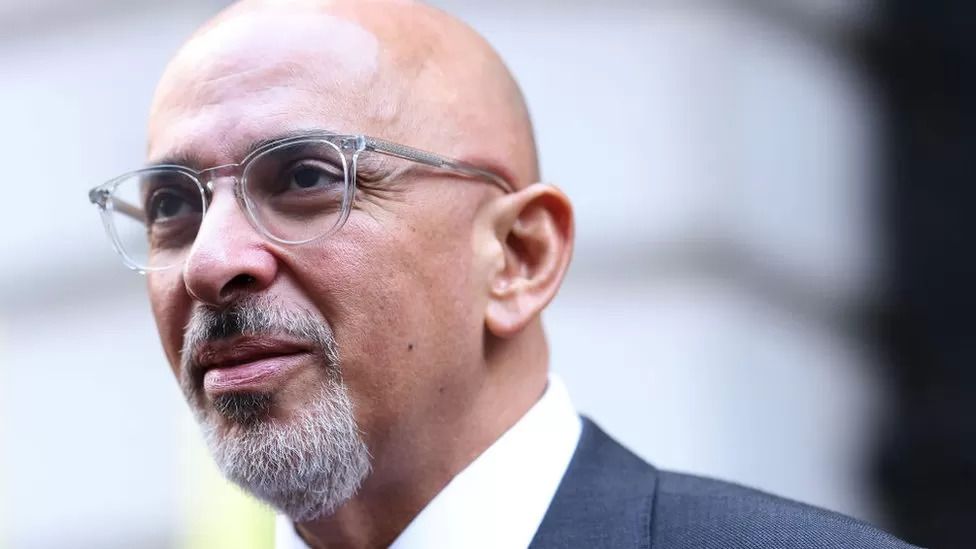 Labour calls for Nadhim Zahawi to be sacked over tax claims
The Tory Party chair is facing fresh questions about claims he tried to avoid paying millions in tax, just as Rishi Sunak and his wife did anyway.
Labour is calling for Rishi Sunak to sack Nadhim Zahawi as Conservative Party chairman after reports he paid a penalty to HMRC as part of a multi-million pound tax settlement.

The ex-chancellor has been under pressure over claims he tried to avoid tax and has now had to pay it back.

Labour deputy leader Angela Rayner said Mr Zahawi's position was "untenable" and the prime minister must sack him.

The BBC has approached Mr Zahawi for comment on the latest allegations.

Ms Rayner said: "Nadhim Zahawi's story doesn't add up.

"The position of the man who was until recently in charge of the UK's tax system and who this prime minister appointed Conservative Party Chair is now untenable.

"It's time for Rishi Sunak to put his money where his mouth is and dismiss Nadhim Zahawi from his cabinet."

The company at the centre of the row is Balshore Investments, which is registered offshore in Gibraltar.

Mr Zahawi has faced questions over whether he used Balshore to hold shares in YouGov, the polling company he co-founded in 2000 - something he has always denied.

Labour have called for an explanation. According to The Guardian, he has had to pay back the tax he owed with a 30% penalty and the total amounts to £4.8m.

The BBC has been unable to verify that figure, but when the Guardian asked repeatedly about the penalty, Mr Zahawi's spokesperson did not deny one had been paid.

When pressed on the total amount, which was thought to include the alleged penalty, the spokesperson said: "Nadhim Zahawi does not recognise this amount … as he has previously stated, his taxes are properly declared and paid in the UK."

The BBC has discovered that Balshore Investments was also registered as a "beneficial owner" of a UK crowdfunding firm called crowd2Fund for three years.

Under transparency rules brought in by the coalition government in the UK, the firm should have made public who was personally in charge.

That is because Balshore owns more than 25% of Crowd2Fund's shares.

Although it is based in Gibraltar where beneficial owners can remain hidden, the UK requires this information to be made public.

Balshore was described as the "family trust of Nadhim Zahawi, an executive director of YouGov", in the polling firm's 2009 annual report.

But the Conservative Party chairman has denied benefiting from or having any involvement with the company.

A spokesperson for Mr Zahawi said it was a matter of public record that Balshore Investments is owned by his father, hence the YouGov reference to his family.

In June 2020, Crowd2Fund told Companies House that its Gibraltar-based shareholder had in fact ceased to be a beneficial owner in April 2016.

Companies are supposed to update these details within 14 days. But Crowd2Fund appears to have taken four years to register the information.

In June last year, Nadhim Zahawi's parents were personally recorded as beneficial owners of Crowd2Fund which indicates they now control the Gibraltar firm.

However, Balshore Investments has owned more than 25% of Crowd2Fund's shares since at least 2015.

That leaves a gap in the register explaining who ultimately benefited from the shareholding prior to June 2022.

BBC News asked both Crowd2Fund and Balshore Investments to explain what happened and if they would now disclose who the beneficial owners of Balshore were for the relevant period.

They were also asked if they accepted they may have broken the law if they failed to file the correct information with Companies House.

Neither Balshore Investments or Crowd2Fund has so far responded to requests for comment.

A spokesman for Mr Zahawi has previously said his taxes are "properly declared and paid in the UK" and the minister "has never had to instruct any lawyers to deal with HMRC on his behalf".