The highly anticipated fishing series, the Scrub Island Invitational, first held in September 2019, will be taking place on September 16-24, 2021, Scrub Island Resort, Spa and Marina has announced.
The fishing series, produced by Bonnier Events, will comprise of two separate three-day tournaments.

The event is expected to attract an impressive line-up of boats, all competing for the coveted series title and prize money.

An ideal location, Scrub Island Resort offers easy access to the famous North Drop, known for world-class Blue Marlin fishing, the resort noted in a press release today, August 24, 2021.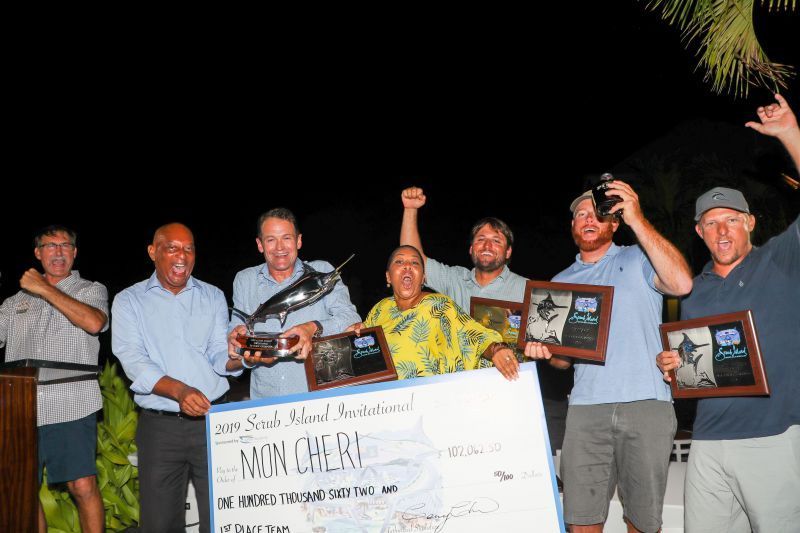 Mon Chari collected a huge check for winning the 2019 Scrub Island Invitational. Assisting with the presentation were Minister for Natural Resources, Labour and Immigration, Honourable Vincent O. Wheatley (R9), 2nd from left, and Junior Minister Honourable Shereen D. Flax-Charles, 4th from left.
'Inaugural event was such a huge success'- Resort's GM

"The inaugural tournament was such a huge success, drawing very accomplished teams from various countries, and we expect a great deal of interest for this year's event from competitors anxious to get out and enjoy the challenge," said Michael Shoonewagen, general manager of Scrub Island Resort.

"We have full support from the BVI Department of Conservation and Fisheries and tremendous feedback from the most devoted of anglers," Mr Shoonewagen added.

With an impressive lineup of 21 boats competing for nearly $200,000 in prize monies, it was Mon Chari, owned by Damon Chouest, that emerged the inaugural winner of the Scrub Island Invitational in September 2019.

The inaugural Scrub Island Invitational had seen an International field of highly accomplished teams and anglers from Brazil, Puerto Rico, Saint Martin, Bahamas, Puerto Rico and the US.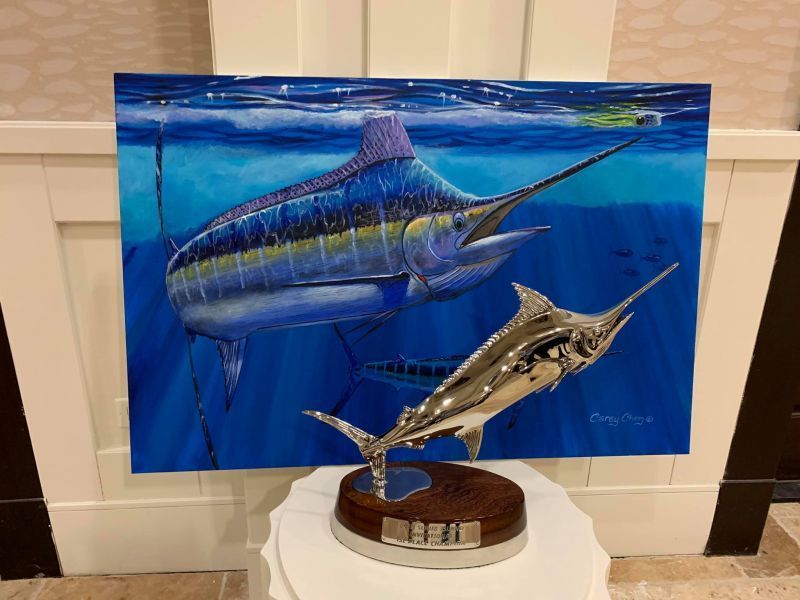 The beautiful trophy collected by team Mon Chari for winning the 2019 Scrub Island Invitational.
Perks of the tournament!

According to Scrub Island Resort, during the tournament, anglers and their families may enjoy the resort's top-tier amenities, including Ixora Spa, world-class restaurants, two private beaches, a four-tiered pool with waterfalls, a 55-slip marina and more.

Scrub Island's Marina is the departure point for most of the water-oriented activities available at the resort. Yachts and watercraft of all sizes are available for group and private charters, from sightseeing to deep-sea fishing. Here, visitors can explore the breathtaking sea life surrounding the island, in addition to the famous North Drop for the best Blue Marlin fishing in the Atlantic, the press release included.

For more information on the Scrub Island Invitational, interested persons are invited to visit ScrubIslandInvitational.com.