The annual party is back in Trinidad and Tobago post-Covid but it comes amid rising gang violence.
"Forget the hate and spite, if we unite, we could put up a fight," sings Eunice Peters as she takes to the stage in San Fernando, a city in the southwest of Trinidad.

The lyrics may not be what you would normally expect to hear in a calypso song but this year's celebrations in this carnival-mad twin island nation are happening against a backdrop of spiralling crime.

2022 was the deadliest year in Trinidad and Tobago's history with 605 recorded murders in the country of 1.3m inhabitants, according to police figures.

"Close them borders to stop the inflow of guns, it's time to modernise we education system," Ms Peters belts out from the Skinner Park stage during the semi-finals of the National Calypso Monarch competition.

Criminologist Wendell Wallace blames the proliferation of gangs for the recent crime wave.

"In Trinidad and Tobago, we have that gang problem, where you have that fight for turf. To me that contributes in a large measure to the rising crime, as well as the increases in murders that we are having," he explains.

And - as if he was echoing the lyrics of Ms Peters' calypso song - Dr Wallace argues that Trinidad and Tobago's porous borders are also a factor. This, he says, leads to illegal drugs coming in, followed by guns.

In north Trinidad, in the lush area of Surrey Village, Amrit Samaroo is trying to keep a group of young people busy doing something positive.

Mr Samaroo is the musical arranger for the First Citizens Supernovas Steel Orchestra.

The steelpan ensemble, which has many young players among its ranks, is rehearsing feverishly in the lead-up to the National Panorama competition final.

"It instils values of discipline, hard work, patience and also working towards a common goal," Mr Samaroo says of the benefits of playing in the orchestra.

Cheriese Pierre started playing steelpan when she was 10. Sixteen years on, she still gets a thrill from being in the Supernovas pan yard.

"Being amongst young people motivates me because I see people around my age, and younger, who I could also motivate and work along," she says.

Meanwhile, at the Queens Park Savannah - home of the main carnival parade stage in the capital Port of Spain - gang crime is also getting a mention as Ruth Adams Mendez is showing off her Carnival Queen costume.

"At a time when our communities are in turmoil due to gang warfare and environmental changes, this costume represents a beacon of hope and a call for peace," the narrator says of the costume, which is modelled on the Maraval lily, a flower native to Trinidad.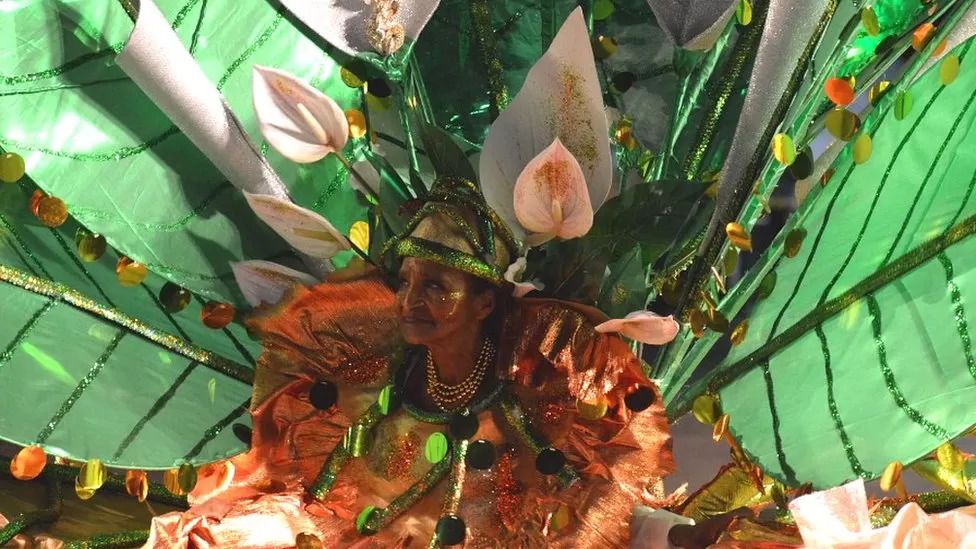 A costume symbolising the Maraval lily is meant to be a sign of hope
The Savannah is considered the mecca of carnival and it is where the majority of official events - which this year fall on 20 and 21 February - are held.
Tens of thousands of masqueraders, entertainers and spectators are expected to join in the revelry and the rising level of crime is causing major concern.
With 2023 off to a bloody start after police recorded at least 85 homicides as of 17 February, veteran soca music artist Ronnie McIntosh is leaving nothing to chance.
Mr McIntosh and his wife Caroline lead the eponymous Ronnie and Caro mas band. Parades by mas [short for masquerade] bands and their costumed revellers make up the beating heart of carnival in Trinidad and Tobago.
But with dancers and spectators expected to pack the area as the celebrations return in full after two years of
Covid
restrictions, keeping everyone safe has become part of Mr McIntosh's duties.
Most eyes will be on the lavish costumes, but security will also be out in force

He has organised at least 100 officers to guard the more than 1,000 revellers who have registered to join his band this year.

"Who I'm responsible for, which are Ronnie and Caro masqueraders, when they're in my zone, I will make sure that we do our job and make sure we're safe," Mr McIntosh explains.

And it is not just the security guards hired by Mr McIntosh who will be on duty.

Police officials say officers have been called out from holiday leave to help secure carnival activities. Over 300 soldiers will provide additional support.

"We will be there, out and about, on foot, mobile, aerial patrols, on the sea," Assistant Commissioner of Police Collis Hazel said at a news briefing.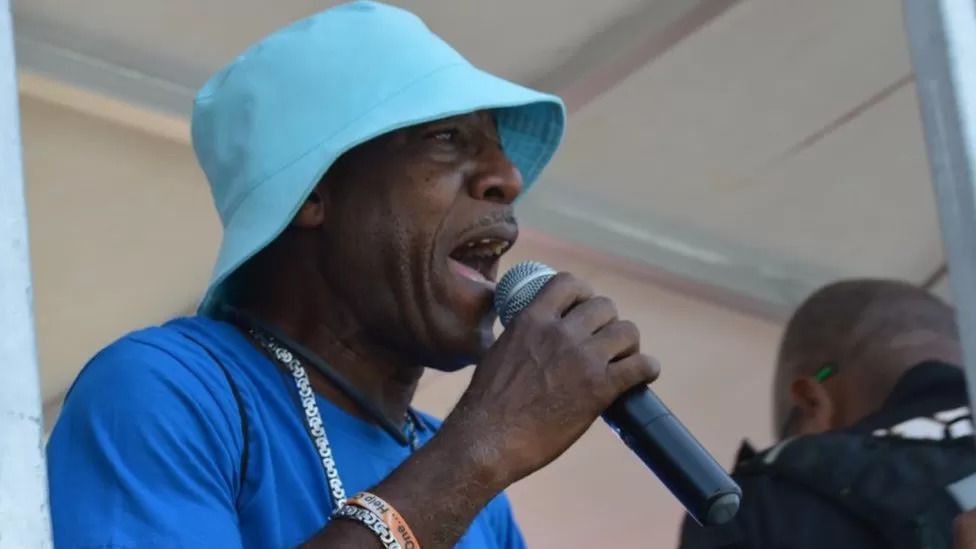 Ronnie McIntosh wants to make sure revellers are safe

The CEO for Trinidad Tourism, Carla Cupid, says the police service has been a "valuable partner" in the tourism board's efforts to promote Trinidad as a destination for overseas visitors.

Ms Cupid says visitor numbers have not been affected by the crime wave and are up this year compared to 2020, the last year the carnival was held in full before Covid restrictions kicked in. Some hotels were completely booked up before and during carnival, she said.

"Generally, there are very few crimes against visitors," she says.

Dane Durham, who sells drinks at a seasonal stall at the Savannah, is also keen to tell visitors that a few bad apples should not be allowed to put a dampener on carnival.

"The crime has nothing to do with Trinidad and Tobago, it has to do with the individuals who commit the crimes," he argues. "Trinidad is a beautiful place, we love people, we love to entertain."