Moorings Sea Rangers remain undefeated in the 2022 Industrial Volleyball League; however, they were made to dig deep for their latest win, which was against One Mart on Thursday, November 17, 2022.
Playing at Multi-Purpose Sports Complex, Moorings Sea Rangers looked set for another comfortable win when they took the first set 21-14.
One Mart; however, clawed their way back into the game by narrowly winning the second set 21-18.
The Sea Rangers had appeared flustered after a controversial referee's call that went against them, allowing One Mart to level matters.
With newfound confidence, One Mart seemed set to take the third set after rushing to an early lead; however, Sea Rangers' top player Canis Marquis then took the 'bull by the horn' by producing some power serves that One Mart had no answer for.
Nevertheless, the scores were tied at 14-14, and with two points straight to win, Moorings Sea Rangers held their nerves the best.
The Sea Rangers hold a perfect record after 7 games played in Group A.
RVIP Defenders overpower BVIEC Shockers
A similar record is held by RVIP Defenders also in Group A.
RVIP Defenders made light work of a tame BVIEC Shockers, 21-9, 21-13, on Thursday. The Shockers are still without power hitter Danielle Selkridge due to injury.
See results for all games played on November 17, 2022: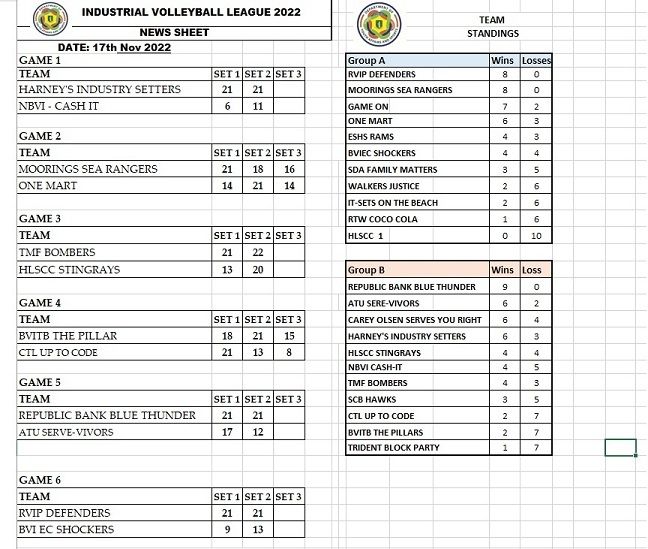 Games continue on Monday, November 21, 2022
Game 1- Walkers Justice vs BVIEC Shockers @ 6:30 pm
Game 2 - ESHS Rams vs Intertrust Sets on the Beach @ 6:30 pm
Game 3 - RVIP Defenders vs One Mart @ 7:30 pm
Game 4 - TMF Bombers vs SCB Hawks @ 7:30 pm
Game 5 - Game On vs RTW Coca Cola @ 8:30 pm
Game 6 - NBVI Cash It vs ATU Serve-Vivors @ 8:30 pm