The battle for a top four finish in the National League and with it a place in the President's Cup is going down to the wire after the results on Sunday, May 15, 2022, at the football field in East End/Long Look.
The only team guaranteed a spot in the knockout format is Sugar Boys FC who became Champions last weekend, but any of four other clubs will be joining them and of course with First to face Fourth and Second to play Third, final positions are also coming into play.


VG United ripped apart Lion Heart

VG United recorded the biggest win of their season, 8-1 against Lion Heart and sit third in the standings but could still miss out on the top four depending on other results.

Bernard Cumberbatch opened the scoring in just the third minute and Sheldon Harry made it two nil in the eighth minute before Akele Campbell pulled one back for Lion Heart in the 22nd minute. Harry restored the two-goal advantage in the 35th minute and from there the floodgates opened. Joel Mars made it 4-1 in the 44th minute and a second half hat trick from Devante Samuel (48th, 67th and 69th) made it 7-1.

Sheldon Toney rounded out the scoring in the 76th minute.

"It was an awesome game," stated VG United Manager, Jermain Abrams.

"It is extremely competitive in the top four and needed to win to secure our place. We only had nine players to start but took our chances to get in front. We changed things up in the second half and went more attacking, which made the game smooth sailing as the goals flowed. With one game left to play it was a great confidence boost and such a large win will only help if final positions come down to goal difference," Abrams analysed.


One Love defeat Islanders

One Love FC had a 3-1 victory over Islanders, but neither team can make the top four.

"It started out perfectly," noted Coach Mark Savage, "as we had the opportunity to go ahead early from the penalty spot, but Richard Morgan missed it! We outplayed them even though the game became very scrappy and stuck to our plans to come out victorious."

Alcise Savery opened the scoring in the 35th minute and Dion Thompson made it 2-0 in the 70th. DeAndre Rogers gave Islanders some hope of at least a point with a 74th minute goal, but Chavaughn Williams made sure of all three points in the 87th minute.


Panthers squeeze past One Caribbean

The other result saw Panthers FC stay in the hunt for the Presidents Cup berth despite withstanding a second half onslaught from One Caribbean FC to win the game 5-4.

Carlos Septus had given One Caribbean a third minute lead from the penalty spot, before Wayne Phillips equalised a minute later and Nigel Sanderson made it 2-1 in the 19th minute.

Phillips made it 3-1 in the 25th and Sanderson 4-1 in the 54th, but then OCFC hit back through Adrian Padilla in the 82nd minute, Septus again from the penalty spot in the 85th and Kelvin Glasgow in the 89th.

Phillips though popped up to score in the fourth minute of added time to steal all the points.

"We played a good game in the first half but hats off to the youngsters of One Caribbean for coming back strong and giving us a good game. We got over confidant and made some mistakes in the second half, but are one of the best teams in the league and although our performance was below our standards we just kept going, played our game and came out with the win."

Wolues FC, who were idle over the weekend are the team that has everyone looking over their shoulders, because if they win their remaining games, they will end up on thirty-three points, good enough to demote either Panthers FC, Rebels FC, or VG United to fifth place.


Upcoming games

Sunday, May 22, 2022

Game 1: One Caribbean FC vs Sugar Boys FC – East End / Long Look 6:30 pm

Game 2: Wolues FC vs Rebels FC - East End / Long Look 8:30 pm.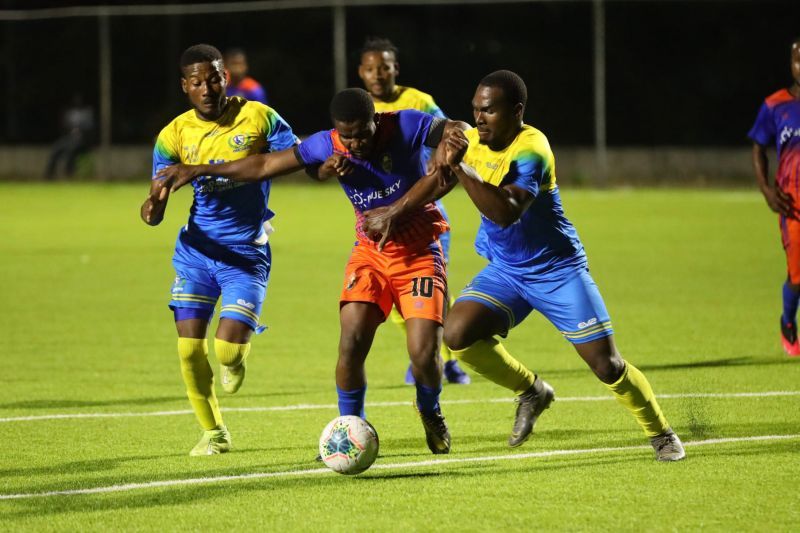 One Caribbean skipper Carlos Septus is double-teamed by Panthers players during their clash on Sunday, May 15, 2022.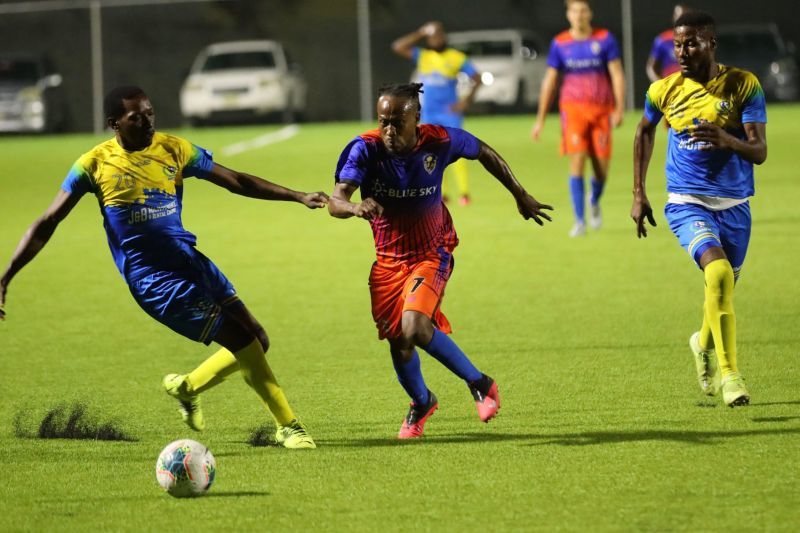 Kelvin Glasgow of One Caribbean powers towards goal in the game against Panthers on Sunday, May 15, 2022.