All victims who are tricked into sending money to scammers should be refunded by their banks, a consumer group has said.
Which? said victims face a "lottery" when it comes to getting their money back.

At the moment, a voluntary code means some victims are compensated, but others are not.

The UK's payments watchdog wants to make compensation mandatory and the government announced a plan a year ago.

In "push payment" fraud, victims are tricked into transferring money to coercive fraudsters pretending to be from their bank, police, or someone else they trust.

Rocio Concha, director of policy and advocacy at Which?, said the changes could not come soon enough.

"Our research shows that people can fall victim even when they are aware of the danger of scams and doing their best to protect themselves," she said.

Its report also said that victims described the realisation they had been scammed as highly distressing.

"The devastating emotional and financial consequences are often compounded as victims realise they face a lottery when it comes to getting their money back, with some banks trying to blame them for their ordeal," Ms Concha added.

Ministers have said they intend to make it a legal right for victims of authorised push payment fraud, known as APP fraud, to be refunded.

In its new report, Which? called on the Payment Systems Regulator (PSR) to press ahead with its proposals to make sure that victims are reimbursed by their banks or building societies unless there were exceptional circumstances.

No matter their age, or how tech savvy they are, anyone can fall victim to a scam, Which? warned.

It found that scams often occur when victims are already stressed, with fraudsters building a relationship with them to avoid detection.

One victim said scammers kept her on the phone for 90 minutes as she struggled to get hold of her bank.

Which? says scammers will often use tactics to create a sense of urgency and "coach" victims past checks by their banks.

'Embarrassment and shame'

The 55-year-old woman who spoke to BBC News had borrowed some money from her father to help pay the bills.

She received a call one Saturday afternoon from someone claiming to be from her bank. The caller told her there was a case of fraud on her account and she needed to move her money from her existing account to a safe one.

She was sceptical but they listed previous transactions on her account, and kept her on the phone for 90 minutes. During the conversation, she said she tried on another phone to call her bank's fraud line to check it was genuine but could not get through.

The caller told her to get some money out of the cash machine to tide her over, then said they had made an appointment at her local branch for the Monday morning.

"When I arrived on the Monday, they said there was nobody of that name. I just felt embarrassment and shame. I was sobbing," she said.

She had lost £9,000.

Nine months and a ruling from the ombudsman later, she was eventually refunded the money. She never told her dad, who died in that time.

She asked banks to have "more empathy" with victims of crime.

In its latest consultation, the regulator said it wants to incentivise banks to share more data with each other so fraudsters can be stopped earlier on.

According to official figures, the amount lost to APP fraud was £249m in the first six months of the year.

Although that figure is down from pandemic records, it is still 30% more than the same time in 2020 and remains a big focus for the banking and finance industry.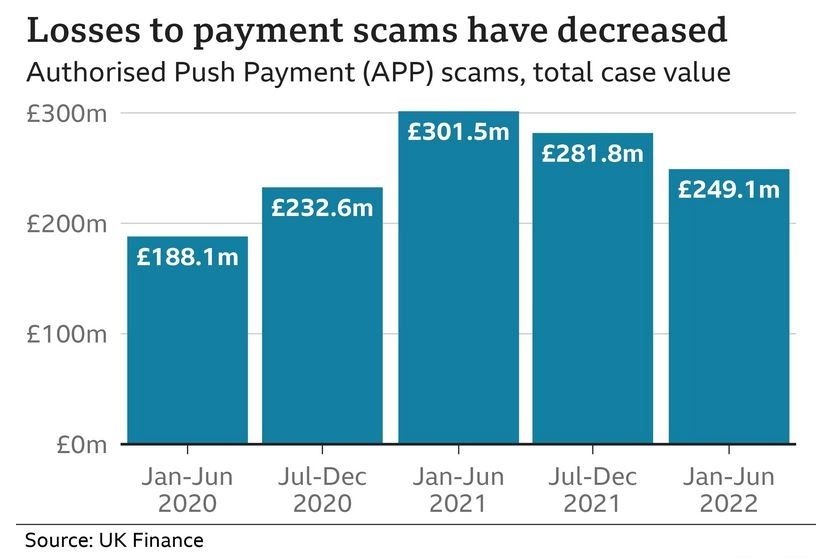 Some payment providers have expressed concerns that new rules on reimbursement might mean customers are more careless.

UK Finance told the BBC that the industry is keen to stop fraud from happening in the first place.

"While hundreds of millions of pounds has been reimbursed to thousands of customers since the introduction of the APP code, reimbursement alone will not solve the problem of fraud," a spokesman said.

He added that payment providers have invested a lot of cash in technology to protect customers already.

The managing director of the PSR, Chris Hemsley, told MPs on Tuesday that it would bring in a number of requirements to make sure "there is some customer caution in the system".

Under its proposals, there would be a time limit on claims of about 13 months, with the minimum threshold for a claim sitting at £100 at most.

It is currently working with Pay.UK - the operator of the UK's money transfer system - and banks to make sure the protections can be brought in quickly once the legislation has gone through Parliament.

As for the victim the BBC spoke to, her message to others was that they should stay strong in the face of fraudsters she describes as "professionals".

"You should not feel shame and embarrassment," she said.