Convicted sex offender Ghislaine Maxwell has claimed her close friend Jeffrey Esptein was 'murdered' in a tell-all bombshell interview from prison with Jeremy Kyle.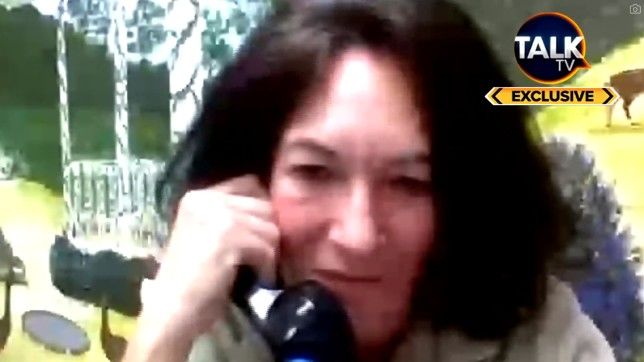 Ghislaine Maxwell has spoken out from behind bars in an exclusive interview
The former socialite, 61, is serving a 20-year sentence after being convicted of sex trafficking and grooming girls for friend Epstein.

The billionaire paedophile was found dead in a Manhattan jail cell in 2019 before his trial on sex abuse charges was due to begin, with the death ruled a suicide.

In their discussion on the show, titled 'Ghislaine Behind Bars', the pair covered topics including Epstein and their mutual friend, Prince Andrew.

Speaking about Jeffrey Epstein and his death, Maxwell admitted: 'I believe that he was murdered. I was shocked. Then I wondered how it had happened?

'Because as far as I was concerned, he was going to, I was sure he was going to appeal. And I was sure he was covered under the non-prosecution agreement.

'But I wasn't in the indictment. I wasn't mentioned. I wasn't even one of the co-conspirators.'

'I honestly wish I had never met him…

'Looking back now, I probably wish I had stayed in England. But leaving that aside, you know I tried to leave and start another new job and move on from the end of '98, '99.

'So, I wish I had been more successful in moving on…Because I'd been a banker and so I should have moved on completely.'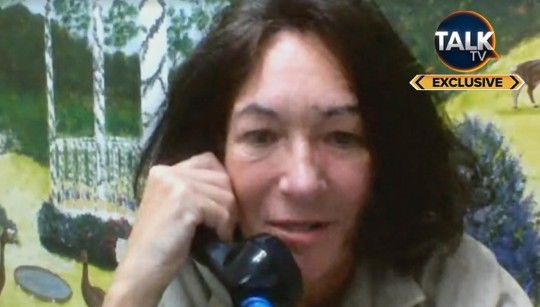 The former socialite gave an interview for Jeremy Kyle Live: Ghislaine Behind Bars

She continued: 'At the time when I wouldn't have had a problem introducing people to my friends, to him.

'Because I didn't know (laughs) that he was so awful. I mean obviously now, looking back with hindsight, of course.

'But at the time, I mean he had lots of friends. He was friendly with just about everybody you could imagine.

'There was no reason to imagine that he was someone of interest to people.'

On working in the prison law library with other inmates and life in prison, Maxwell admitted: 'So, they wake you up at 6. And you can go to breakfast, which consists of cereal and fruit, a piece of fruit, generally.

'And then you have to make your bed in military style so there is nothing that's sticking out.

'It has to be a prescribed way otherwise you can get into trouble. You can get what's called a 'shot'.

Jeffrey Epstein and Ghislaine Maxwell were pictured together on a visit to Balmoral Castle

'And then at 7.30am you go to work and for me that means I go to the law library, to help people so if they have detainers or they have warrants, or they are trying to appeal their case or… let's see, if they are trying to get compassionate release or they ask about the first step back or how credits are applied to their time.

'That sort of thing and I ask those types of questions.'

She added: 'And if you are lucky they call Recreation at some point during the day. If you are at work, you miss it and if you are not you get to go out for about an hour.'

Teasing the interview, Kyle told viewers: 'Maxwell lifts the lid on Epstein, Prince Andrew and even our late Queen. This is Ghislaine Maxwell behind bars and in her own words.'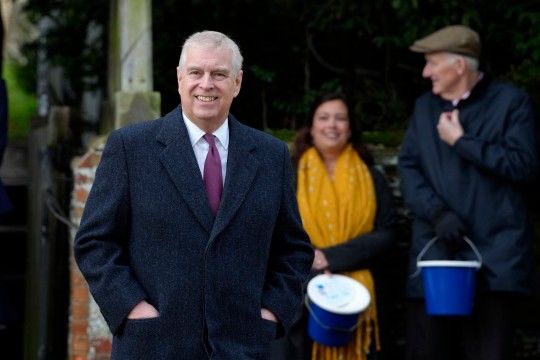 Prince Andrew denies ever meeting Virginia Giuffre

In a clip released earlier today, Maxwell said she hopes the victims of her former friend Jeffrey Epstein 'have some closure', but added they should take out any anger over his death on the 'authorities'.

In footage from the interview with TalkTV, Maxwell said: 'I would say Epstein died, and [the victims] should take their disappointment and their upset out on the authorities that allowed that to happen.

'As I said, I hope they have some closure by the judicial process that took place.'

During her own trial in 2021, prosecutors described Maxwell and Epstein as 'partners in crime', with the socialite recruiting young girls for her once-boyfriend.

Among the women who claimed they were trafficked by Maxwell was Virginia Giuffre, who alleged she was forced to have sex with Prince Andrew when she was 17 years old.

In a clip from the TalkTV interview released yesterday, Maxwell said a famous photograph showing the teenager with the Duke of York was faked.

She said: 'It's a fake. I don't believe it's real for a second, in fact I'm sure it's not.'

Andrew has also said he does not think the picture is genuine, claiming he is 'not one to hug' or 'display affection' in public.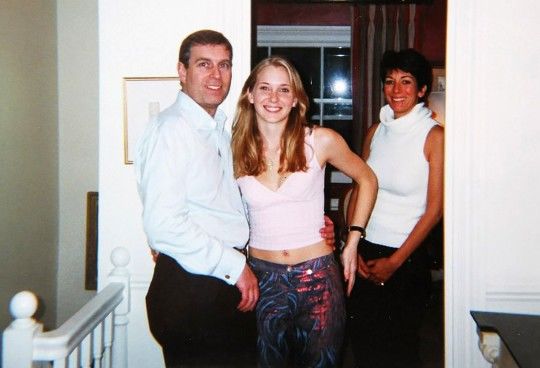 Both Maxwell and Prince Andrew have said the picture of him with 17-year-old Virginia Roberts – now Giuffre – is faked

Ms Giuffre, who was previously known as Virginia Roberts, said she gave the original photograph to the FBI in 2011.

Last week, the Mail on Sunday reported that Maxwell had met the late Queen.

'I thought the Queen was one of the most exceptional women I ever had the honour and privilege of meeting,' Maxwell is quoted as saying.

Andrew is said to have saved up a £10 million fund to launch a legal case against Virginia Giuffre when her gagging order ends in February.