Hammerson, owner of Birmingham's Bullring, is to cut rents for its retail tenants by 30% as it aims to recover from a year of lockdowns.
The firm's UK boss Mark Bourgeois said it had been a "challenging" period when it had tried to "share the pain" with retailers forced to shut.

Non-essential shops in England and Wales reopened on Monday.

Hammerson said footfall had been stronger than the week after the first lockdown ended in June.

Over the past year, Hammerson, which also owns London's Brent Cross, collected about 75% of rents owed by its tenants and agreed abatements with those shops who needed it.

However, it expects to continue helping the retailers in its shopping centres which also include The Oracle site in Reading and the Victoria Quarter in Leeds.

"Typically, we're resetting our rents to more affordable levels," Mr Bourgeois told the BBC's Today programme.

"We reckon across the board and our business we'll probably reduce rents from their peak by about 30% so we are really doing our bit as are... all landlords to make sure we maintain vibrancy in these centres."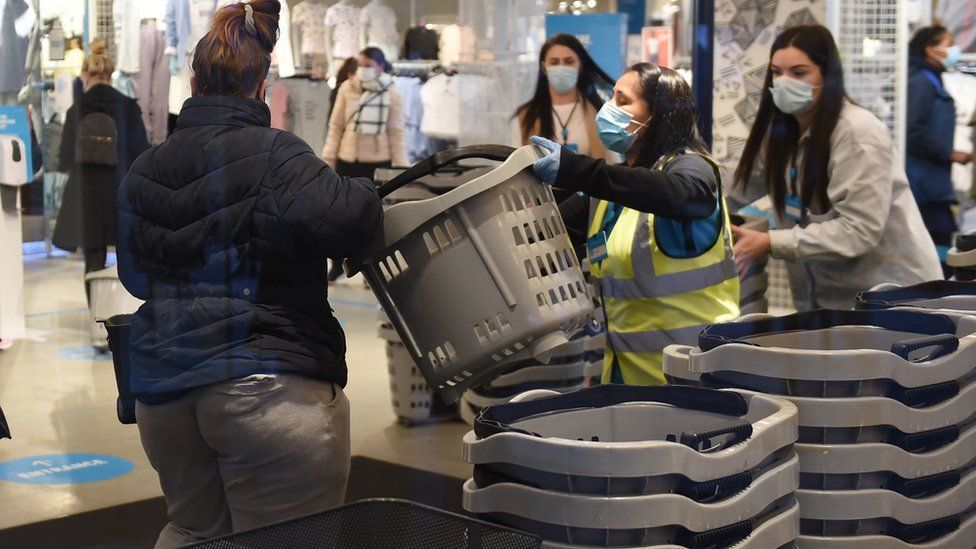 Mr Bourgeois said that the bounce back in footfall in the past week had been more pronounced than equivalent period last June.

He said that the Covid-19 vaccine roll-out has made shoppers "feel safer", adding it was likely there was "more cash in people's pockets and they are feeling perhaps more confident to go and spend".

Record loss

The Bank of England estimates that UK households have amassed £125bn in pent-up savings during the pandemic.

But Mr Bourgeois also said: "People just love to get out. You can only do so much online shopping [people want to] get out and feel the products and brands in real life."

Over its last financial year, for the 12 months to 31 December, Hammerson reported a record £1.7bn loss.

However, even before the coronavirus pandemic forced the closure of large parts of the economy, retailers and their landlords were struggling as more consumers chose to shop online.

Last June, Intu, the heavily-indebted owned of Manchester's Trafford Centre, was forced to file for administration.

Mr Bourgeois said: "Retail has always been about winners and losers and that's been really accelerated during Covid."

He said Hammerson was now working to "repurpose" space left by the likes of department store Debenhams, which closed all its high street stores after falling into administration and selling the brand to online fashion firm Boohoo.

"We have a planning application in Leicester for instance where we are preparing to demolish a Debenhams store and put 300 flats there," said Mr Bourgeois. "So we're bringing homes right into the heart of the city."