From the Swiss Alps to the Rocky Mountains, ski resorts are grappling with the impacts of climate change. How are they adapting in a warming world?
Anzère is often hailed as Europe's greenest ski resort. But the Swiss village had a difficult start to its 2023 winter season. Like many other Alpine ski resorts, low-lying Anzère was forced to close some of its pistes due to lack of snowfall and rainy conditions in late December and the first few days of January.

The Alps experienced record high temperatures over Christmas and New Year, reaching 20.9C (70F) in northwest Switzerland.

"It was exceptionally warm over Christmas and New Year," says Stephanie Dijkman, director of Anzère tourism. "Nearly all the snow in the village was gone. I was quite worried." People were unable to ski down to the village, she adds.

Fortunately, it started snowing again in early January, just in time for the arrival of the "real skiing fans" who book their trips outside of the holiday season and are hoping for "very good conditions", she says.

But the recent warm weather and winter washout throughout the Alps is an omen of what awaits the ski industry. Many resorts are aware that they only have two options: close or adapt their business model to cope with mounting climate threats.

From the Swiss Alps to the Rocky Mountains, resorts are grappling with the impacts of climate change by trying to provide sufficient snow cover and rapidly adapt to the changing conditions, while envisaging what their future looks like in a warming world.

Besides measures to reduce its own emissions, such as by investing in renewable energy and building Europe's largest wood-fired heating plant, Anzère is planning ahead for a time where skiing may no longer be viable.

"We're aware that we need to adapt the resort for the years to come," says Dijkman. "We're investing more in bike trails, in climbing [routes] and walking paths and highlighting all that we have to offer, whether it's in the summer or winter."

Climate change is turning skiing into an endangered pastime. Ski seasons are becoming shorter and slopes are turning green as temperatures rise. Heavy rainfall in Alpine resorts contributed to snow melting and slushy conditions.

When temperatures rise, the atmosphere ends up holding more water vapour which leads to more rainfall, says Marie Cavitte, a glaciologist and climate researcher at the Catholic University of Louvain in Belgium. "[When] temperatures increase, [water vapour] falls as rain instead of falling as snow," she adds. "That is what is happening at low altitude ski stations, which are below 1,600m (5,250ft). There we are seeing a lot more rain on snow events which increase the melting of existing snow."

At low altitude resorts in Europe, snow depth is shrinking by 3-4cm (1.2-1.6in) every 10 years, says Cavitte.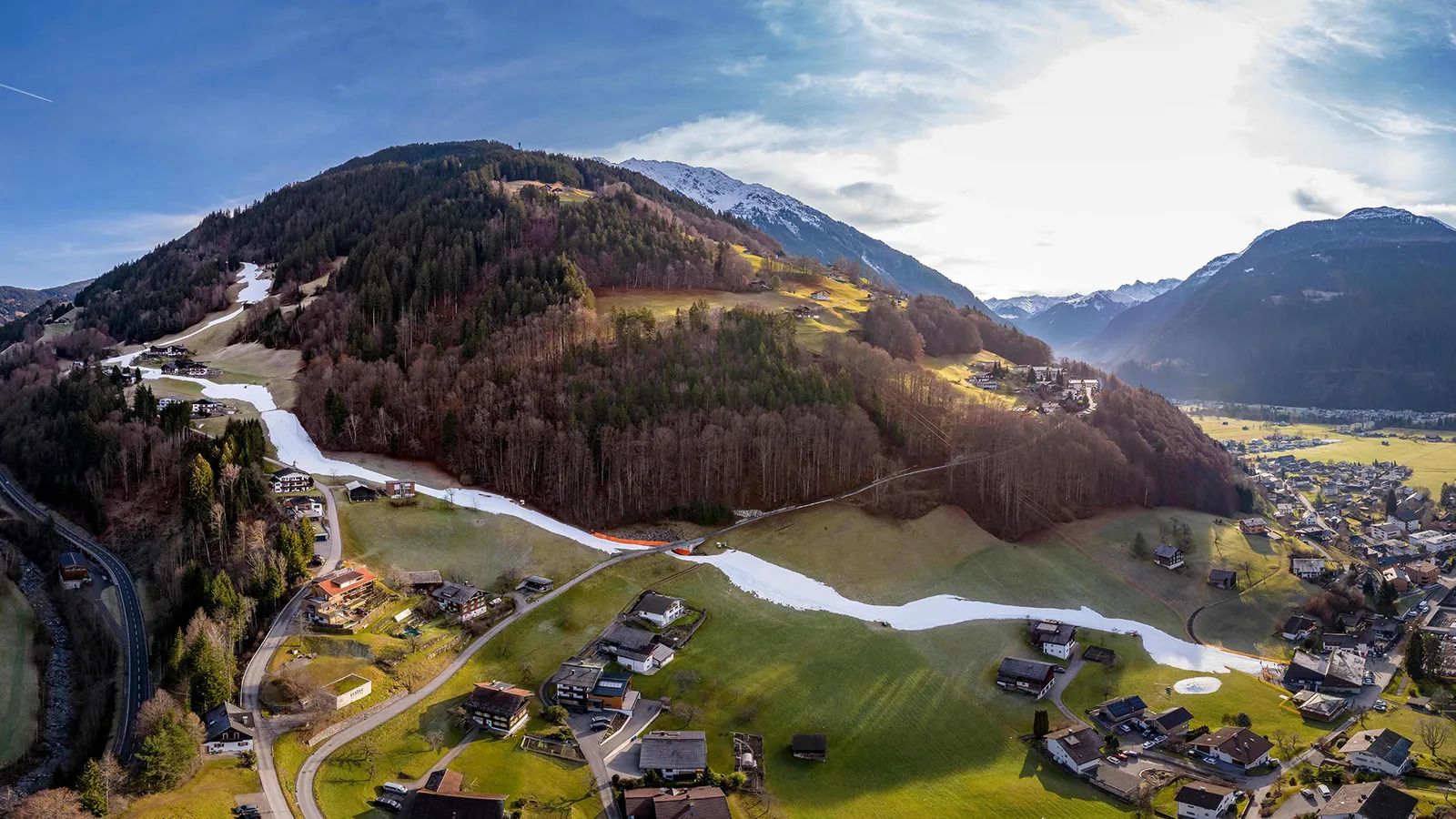 Ski seasons are becoming shorter and slopes are turning green as temperatures rise
Another major concern is the rapid disappearance of glaciers. Alpine resorts such as Tignes in France rely on glaciers for snow cover and water supply. In the European Alps, glaciers are expected to vanish almost completely by 2100, with the UN Intergovernmental Panel on Climate Change warning that they could lose 94% of their 2017 volume by the end of the century. As temperatures rise, glacial ice melts faster and there is less fresh snow. Glaciers melting could lead to severe flooding and erosion in the valley below and increase the risk of avalanches, destroying critical infrastructure as well as significantly reducing water supplies for local mountain communities.
According to a 2017 study by the Institute for Snow and Avalanche Research, the Alps could lose up to 70% of their snow cover by 2100, if global temperatures rise in line with business-as-usual. The world is currently on track for an average of 2.7C (4.9F) of warming by 2100. If global temperature rise is kept below 2C (3.6F), though, the reduction in snow cover will be limited to 30%, according to the study.
Rising temperatures and decreased snowfall are shortening the winter ski season, a concerning trend for the mountain communities whose livelihood depends on the winter sports industry.
In a swathe of US ski resorts covering a combined area the size of Virginia, the ski season shrank by an average of 34 days between 1982 and 2016, according to a 2018 study.
Anzère's winter season has shrunk by just a few days over the past 30 years, says Dijkman. "But in some European resorts, [the season] has shortened by weeks and that is obviously going to have quite a big impact."
A lack of snow isn't the only challenge that ski resorts are contending with. "In the United States, wildfires are almost a greater threat," says Auden Schendler, senior vice president of sustainability at Aspen Skiing Company, which operates the Aspen Snowmass resort in Colorado.
Over the past five years, wildfires have come dangerously close to towns and shut down major highways in the ski region. "We're already seeing fires at ski resorts. They're as big a threat as loss of snow," says Schendler, adding that in recent years the resort has also experienced mudslides caused by extreme rainfall.
Ski resorts are scrambling to ensure that they can stay open for their entire season and provide tourists with the snow-covered, picturesque settings they expect.
To do this, they are harnessing huge snowmaking machines which cover the pistes in fresh white powder.
A study by the University of Basel in Switzerland warns that resorts situated below 1,800-2,000m (5,900-6,600ft), will increasingly have to rely on artificial snow to keep just their higher ski slopes open for up to 100 consecutive days, while their lower slopes may not be possible to save. This would raise their water consumption by 79% by 2100. During an average winter towards the end of the century, a resort would consume about 540 million litres (119 million gallons) of water, compared to today's 300 million litres (66 million gallons). In the French Alps, water consumption could increase ninefold by 2100, according to the study.
This could lead to conflict between the skiing industry and local communities who may rely on the water for hydropower, the researchers warned. (Read about how small hydropower plants have long sustained remote communities in the Alps).
The study also predicts a huge rise in operational costs for ski resorts if they are forced to use artificial snowmaking to maintain their slopes. This is because the cannons that distribute the snow and the ploughs that groom the pistes are incredibly energy-intensive and run on polluting fossil fuels. There are currently no snow-making machines that run on renewables and plans to reduce overall emissions are focused around improving efficiency.
Solutions to adapt to the changing climate in the mountains therefore "ironically add more CO2 to the atmosphere and are making the climate problem worse", says Cavitte.
Even today, snow ploughs on average account for roughly 60% of a resort's carbon emissions, while snow cannons contribute about 25%, says Cavitte. Ski lifts aren't as polluting, she says, since many resorts are trying to use renewable electricity.
Besides the climate impact of snow machines, there is also an operational challenge as artificial snow can only be produced when temperatures stay below 1C (34F). The air has to be cold enough that the water droplets which the machines expel freeze and turn into snow particles.
Over Christmas and New Year, many Alpine resorts were forced to close their slopes as the temperatures were too high to generate artificial snow.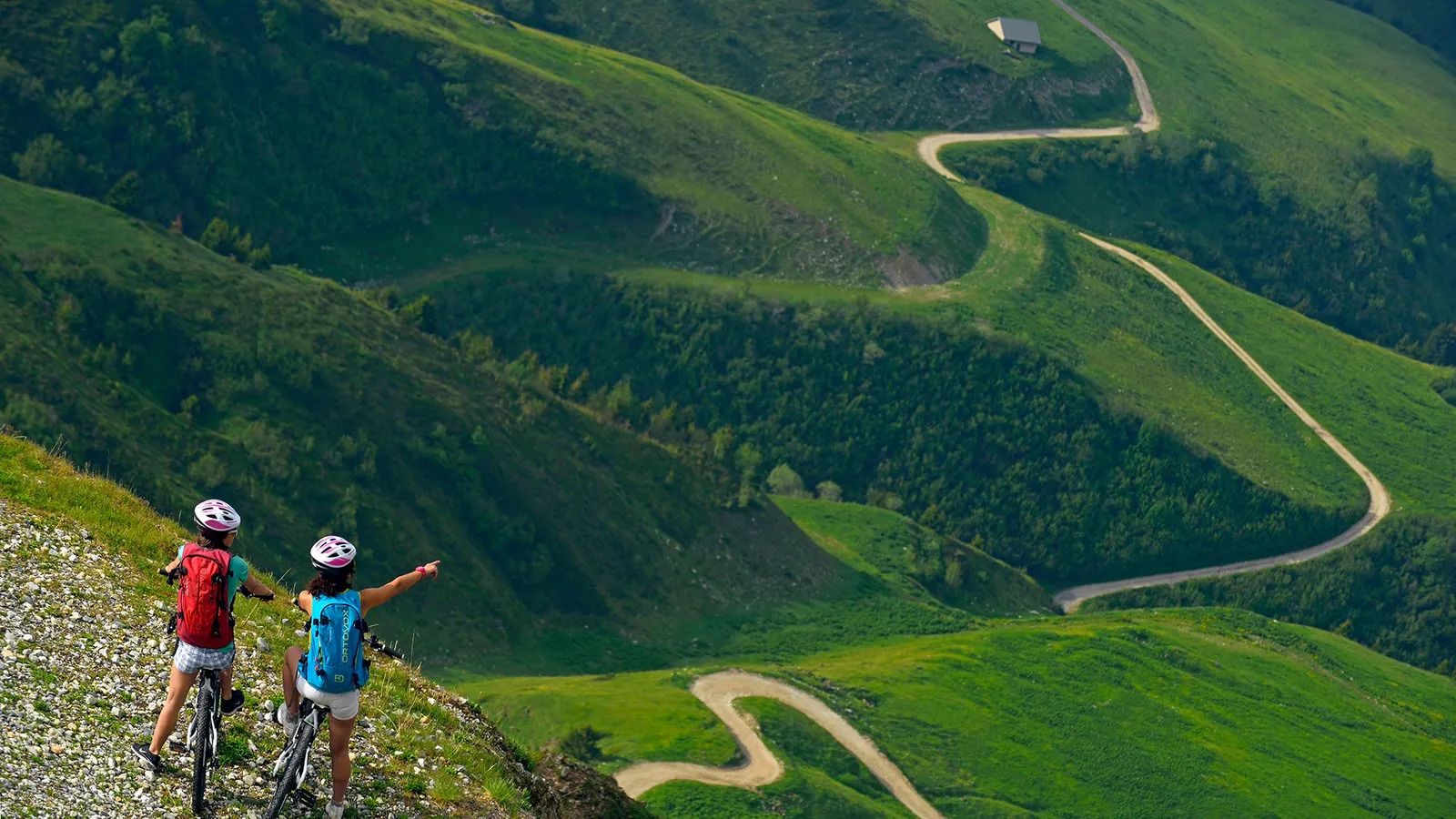 Ski resorts are investing in mountain bike trails, walking paths and climbing routes to encourage tourists to visit in the summer

Meanwhile, some have resorted to covering glaciers in protective blankets to stop them from melting in the summer. Made out of white UV-resistant synthetic material, the blankets shield the thick winter snow from the Sun's rays during the warmer summer months. According to a 2021 study, the technique can reduce the melting of snow and ice by 50-70%, compared to unprotected surfaces.

But it is a costly process, the study's authors warn. Covering all of Switzerland's 1,000 largest glaciers would cost about 1.4bn Swiss Francs ($1.5bn; £1.2bn) annually, they estimate.

There are also negative environmental consequences associated with this adaptation measure, warns Cavitte. Polluting machines are used to put the blankets down and remove them. "And when they take them off, there's always pieces of plastic that are left behind which contaminate the glacier and surrounding land," she says. There are also concerns about how this measure will impact local biodiversity and wildlife, she adds.

These short-term measures will not shield the industry from the looming climate threat. "The ski industry is not going to be able to save itself," acknowledges Schendler.

Despite this bleak outlook, many resorts have adopted ambitious, long-term sustainability goals in a bid to reduce their emissions and protect their natural resources.

Big Sky resort, which sits at an elevation of 2,200m (7,200ft) in the Rocky Mountains in southern Montana, is aiming for net zero emissions by 2030, under its Forever Project, which was launched in 2021. The resort has introduced a wide range of sustainability measures, including a newly installed 32 kilowatt (kW) solar array, improving the efficiency of buildings, reducing its water usage and protecting its forests, says Amy Fonte, sustainability specialist and head of the Forever Project.

The resort also purchases renewable energy credits for the remaining electricity it uses, including for its 38 chairlifts and its housing, says Fonte.

Aspen Skiing Company, meanwhile, is aiming to source 100% renewable electricity to power all its operations by 2030. "Ski resorts use fossil fuels and a lot of energy. It would be completely hypocritical if those resorts were not working to fix the system," says Schendler.

Meanwhile, a wood pellet plant heats 600 apartments, two hotels and a public swimming pool in Anzère, saving the village 1.5 million litres (330,000 gallons) of oil a year. Most of the resort already runs on hydroelectricity, which is generated at the nearby Tseuzier dam.

Anzère is also car-free and offers free public transport to all visitors, in a bid to encourage people to travel more sustainably. Tourists also have a role to play in helping reduce emissions and preserving the mountains, says Dijkman. "It's a mindset that needs to not only be present among local businesses but also among the people that come here on holiday."

This starts with choosing how they travel to the ski resort. According to a recent survey by the Ski Club of Great Britain, just 2% of British travellers take the train to go skiing, compared to 72% who fly. (Read more about the climate impact of flying). For people in Europe looking to travel in a more sustainable way to the Alps, there are plenty of options ranging from the Alpen Express, an overnight train travelling from the Netherlands via Cologne to Austrian resorts, or the TravelSki Express which runs between London and the French Alps, via a Eurostar to Paris.

Even if they are unable to change their own fate, resorts can still play an important role in the fight against climate change, says Schendler. "The role of the industry is to help the public understand what they stand to lose from climate change and to advocate for solutions."

Ski resorts are the "perfect messenger" for highlighting the reality of the climate crisis, says Schendler. "People love what skiing offers them today. The threat of that disappearing is the kind of visceral hit that people need to catapult themselves into action."


The ski industry is not going to be able to save itself – Auden Schendler

Fonte agrees that the ski industry "can make significant behaviour changes…We can really help mitigate the impacts of climate change," she says. "I'd like to think that we're going to live in a world where skiing will still be around."

But this looks like an unlikely reality for many resorts, especially lower-lying ones in Europe. Many are seeking to pivot their business model and ensure that they have a future if there is no more snow.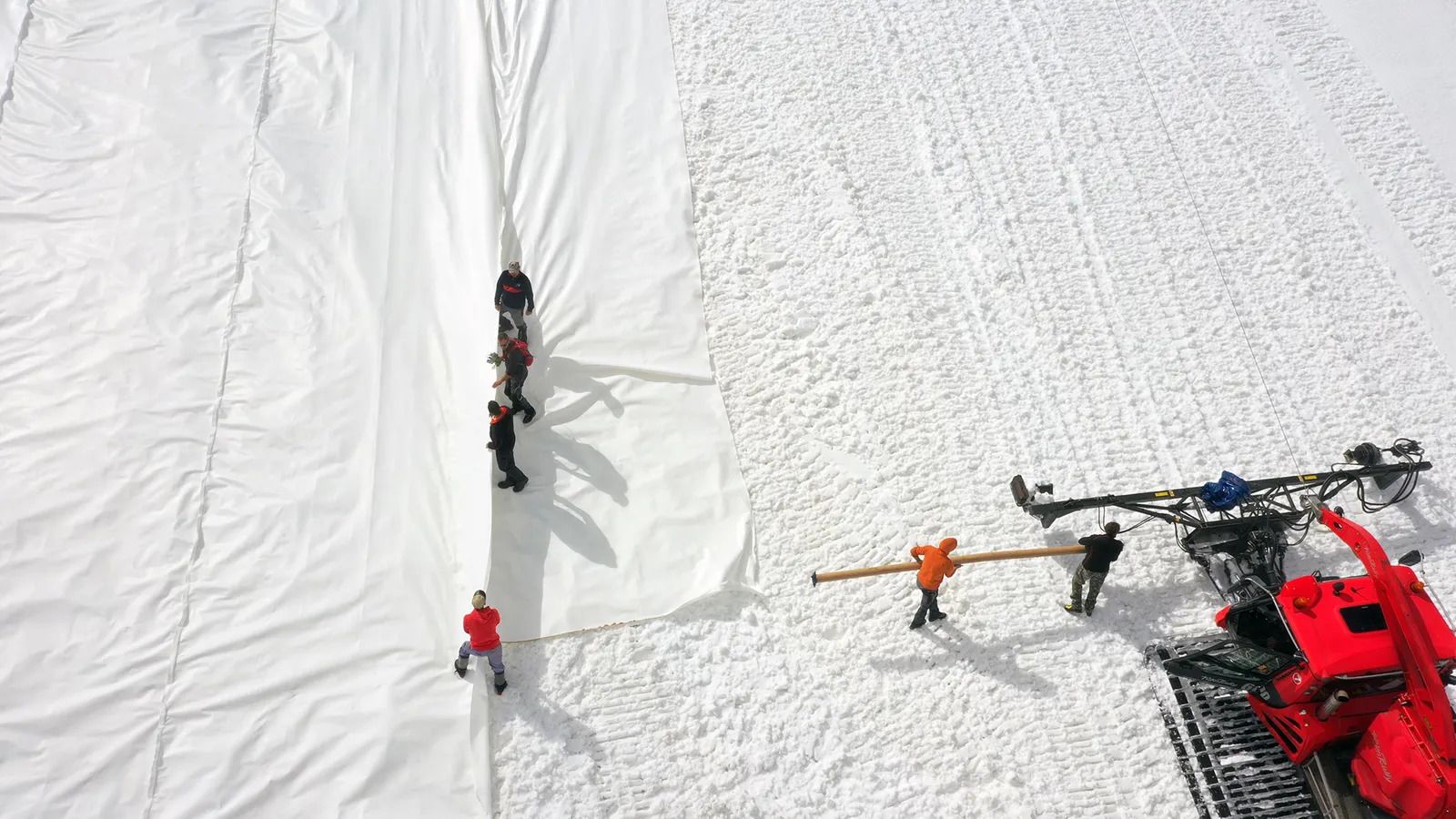 Some ski resorts are covering glaciers in protective blankets to stop them from melting in the summer

"We're now investing more in summer [activities] than we're investing in winter [ones]," says Dijkman. The plan is to highlight "all the activities that the mountains have to offer", without turning the resort "into a Disney [theme] park", she says.

Schendler says a future without skiing will be very difficult for resorts. Even with increased investment, they will struggle to generate a similar stream of revenue during the summer, he argues.

"Skiing is a huge business," he says. "The [economic] throughput in the summer is going to be much lower. You can't really build a business around hiking."

But according to Rachael Carver, who surveyed ski tourists at the Austrian resort Stubai Glacier for her dissertation at the University of Staffordshire in the UK, people see the value of visiting the mountains even if there is no snow.

Some 70% of those surveyed said they would return to the resort if the glaciers vanished, citing the beautiful mountain scenery and hiking opportunities as the main reasons.

Carver also observed an increase in "last-chance tourism" at Stubai Glacier, with people visiting the resort before the glacier vanishes completely. "Many people are aware that glaciers are melting and that ski resorts are disappearing. They want to see these sites before they [vanish] completely," she says.

This increased interest in visiting glaciers provides resorts with an opportunity to educate people about climate change, she notes. But this surge in "last-chance tourism" is also unsustainable and placing even more pressure on an already fragile ecosystem, says Carver.

Adapting the business model and pivoting to new mountain activities is the only choice, says Dijkman. "We have to become greener if we want to keep living here," she says.

She is hopeful that tourists will continue visiting the mountains even if there is no snow. "Our mountains are naturally stunning and we already have absolutely everything to make holidays perfect, whether it's in the winter or summer."