Following a notice from the National Parks Trust of the Virgin Islands (NPTVI) on June 30, 2021, that The Baths will be closed to non-cruise ship passengers, including resident of the VI during certain hours, Junior Minister for Trade and Economic Development, Honourable Shereen D. Flax-Charles (AL) has lead a public protest on the decision.
NPTVI advisory

According to the advisory from NPTVI, effective Thursday, July 1, 2021, in compliance with COVID-19 protocols, to avoid overcrowding, maintain 'travel bubbles', and allow for social distancing to be observed, there will be a limit on the number of persons allowed to visit National Parks at a given time.

"On days when cruise ships are in port, The Greater Baths National Park will be closed to Residents and other Non-Cruise Ship guests between 9:00am and 2:00pm. The park will reopen once the necessary cleaning and sanitisation procedures have been undertaken."

It also said notices will be posted on the NPTVI Facebook page.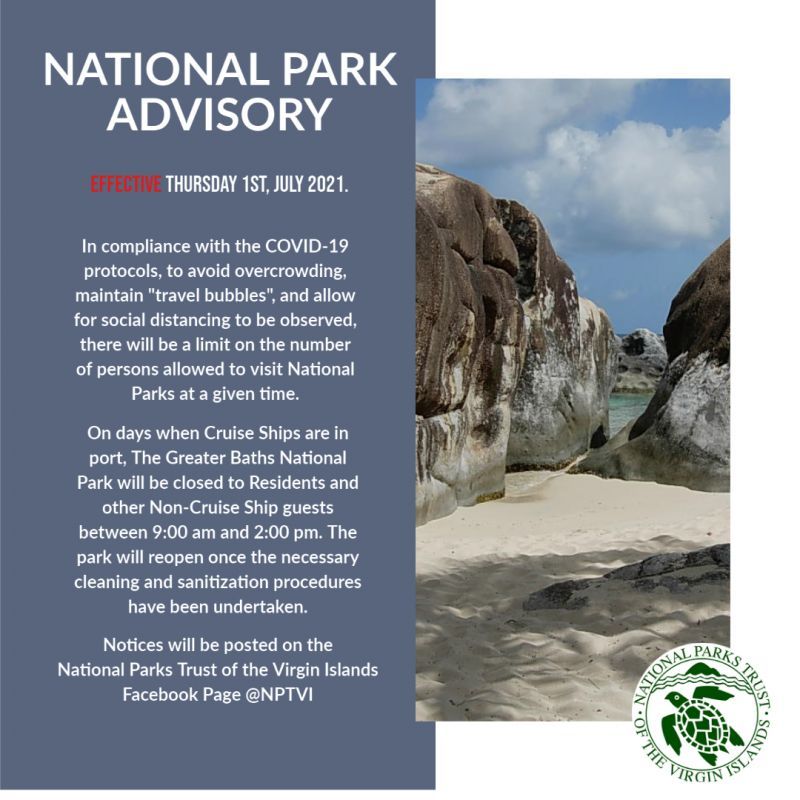 The advisory by the National Parks Trust of the Virgin Islands on June 30, 2021.
Public protest

Hon Flax-Charles and at least three other persons, including former Director of Tourism Sharon P. Flax-Brutus, made their way to The Baths this morning, July 1, 2021, holding placards with words such as 'All beaches are public' and 'Cannot be exclusive for cruise lines'.

According to the protestors, all beaches are public by law and also argued that it is not right to favour the cruise line sector of the tourism industry and make other sectors like the hotels, villas, and charter boats suffer by making The Baths off-limits to them.

They were also concerned that other tourist sites would also be reserved for cruise ship guests.

The Virgin Islands has received its first passenger cruise ship for well over a year today, July 1, 2021.


Decision surprising- Hon Flax-Charles

Speaking to Virgin Islands News Online, Hon Flax-Charles said she was surprised to hear that the NPTVI had taken such a decision when it was decided at a meeting recently that there would be no restrictions to The Baths to accommodate cruise ship guests.

It was noted that a number of guests from hotels and yachts were turned away by staff of the NPTVI this morning.

She said this prompted her to go to The Baths and speak up against the decision.

Hon Flax-Charles also said their presence there also resulted in non-cruise ship guests being allowed to visit The Baths.

According to her, The Baths is the leading tourist destination in the Greater Virgin Islands and it would be unlawful and unfair for anyone to be barred from visiting it.

VINO is following up on this story.