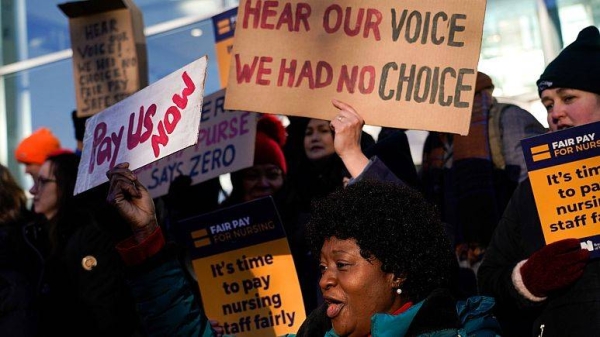 'Significant disruption' warning as UK braces for mass strikes
The British government has warned of "significant disruption" on Wednesday in the biggest series of strikes in a decade involving school teachers and classroom assistants, some bus and train drivers, security guards, civil servants, and staff at 150 universities.
Prime Minister Rishi Sunak's spokesperson told reporters the sheer scale of the strikes would make things "very difficult for the public trying to go about their daily lives."

"We are upfront that this will disrupt people's lives and that's why we think negotiations rather than picket lines are the right approach," the spokesperson said.

Wednesday's wave of industrial action is just the latest in a series of strikes to hit various parts of the UK -- and which will continue next week with strikes planned by nurses, midwives, ambulance crews, physiotherapists, railway workers and university staff again.

In England and Wales, teachers are taking industrial action for the first time since 2016 over demands for better pay.

London school teacher Lucy Preston will miss her son's fourth birthday this week because she has to work a second job in the evening as a private tutor to make sure she can pay for her childcare and mortgage.

The single mother of two will join other teachers on the picket lines on Wednesday in the hope of earning a pay rise that will give her stretched household budget some relief.

"It's utterly heartbreaking for me," 38-year-old Preston said of missing her son's birthday. She works as an English teacher three days a week, looking after her kids on the other two days as she cannot afford childcare every day.

"If I could just make enough money to not have to do the tutoring in the evening, I would have a much, much happier life ... It's just a really, really depressing place to be in."

The National Education Union (NEU), which is organizing the teachers' strikes, has asked for an above-inflation pay award funded fully by the government, so that schools can also cover other costs, from stationery to textbooks.

With inflation reaching double digits last year, teachers have seen a 23% real-terms pay cut since 2010, the union says.

Preston says mortgage payments eat into two-thirds of her 1,800 pounds-a-month (€2040) salary, forcing her to find other ways to make money, such as renting out a room in her house to a lodger and buying cheaper, frozen food instead of fresh produce.

"The stress that causes is absolutely unbelievable ... Every single month, it is a struggle," said Preston, who has worked as a teacher since 2011.

The government, which has held unsuccessful talks with the NEU, has called its one-year, 5% pay award for teachers the highest "in a generation" and says it is investing 4 billion pounds in schools over the next two years.

The Public and Commercial Services Union says 100,000 civil servants will be taking strike action on Wednesday.

"As the cost-of-living crisis worsens, with inflation at nearly 11%, members are saying they've had enough of being treated appallingly. Our campaign is for a 10% pay rise, pensions justice, job security and no cuts in redundancy terms," PCS said in a statement.

Wednesday's industrial action will impact the vehicle licensing agency, the Maritime and Coastguard Agency, and government departments like the Home Office and Department of Health and Social Care.

The union's general secretary Mark Serwotka said in an online event ahead of the strike that striking workers were "battling hard against a ruthless government."

Staff at 150 universities striking on Wednesday

Around 70,000 staff at 150 universities across the UK are also expected to join strike action on Wednesday, protesting over pay, working conditions and pensions.

It's the first of 18 days of planned strikes which unions say will impact 2.5 million students during February and March.

University bosses have offered a 5% pay increase but unions say that offer is not enough, and expect members to reject the offer.

The University and College Union (UCU) also wants to see cuts to pensions rolled back and benefits restored, as they say members will lose on average 35% of their guaranteed future retirement income.

"University vice-chancellors have been given multiple opportunities to use the sector's vast wealth to resolve these disputes. Instead, they have forced staff back to the picket line and brought disruption to students," said UCU general secretary Jo Grady.

'Staff aren't asking for much. They want a decent pay rise, secure employment and for devastating pension cuts to be reversed. These demands are reasonable and deliverable by a sector which has over £40bn in reserves."